Bakeries, cafes, patisseries and restaurants in general need signage to set them apart and give them a distinct brand identity. This beautiful panel sign for Amy's Pastry in Montebello completes their establishment and will impress customers as they enter the bakeshop in search for scrumptious treats.
Panel Sign Package for Lobbies, Reception Areas, and Interiors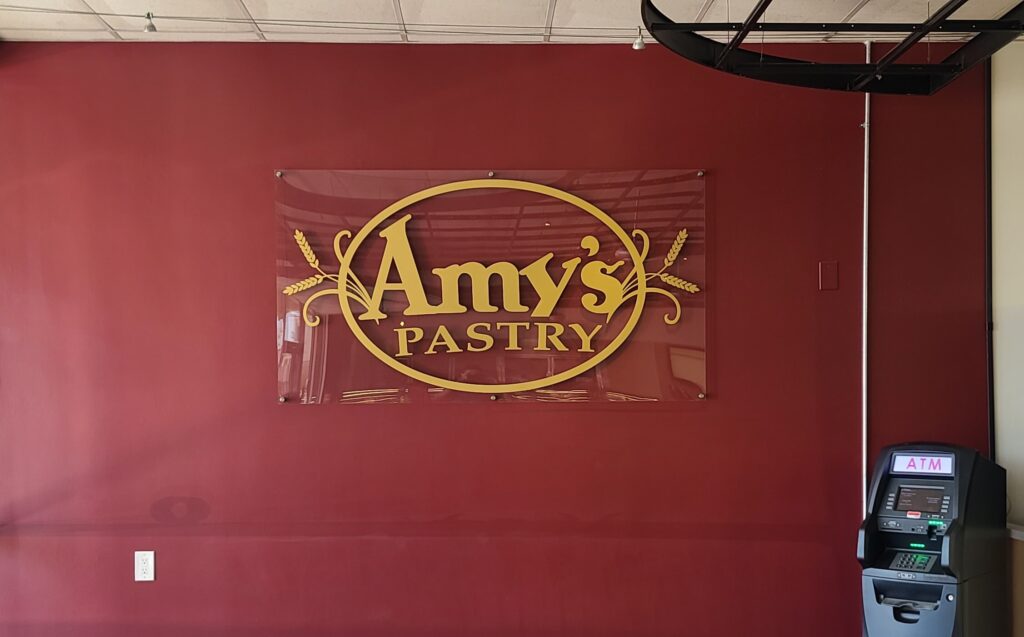 Looking for a simple yet elegant sign that will display your branding prominently? Whether you are a bakery or an office, panel signs will do the job, making your logo visible to all who enter your establishment. These are simple to manufacture and easy to install. The clear acrylic panels such as the one used for Amy's Pastry will allow the signage to easily match the style and aesthetics of any establishment's interior. This approach means that the brand logo will stand out even more. Panel signs can serve as the main centerpiece lobby sign or they can compliment other signage. They can also be used in conjunction with other signs, from window graphics to interior signs such as plaques, wall graphics and wall art, and more. Whether the panel signs are used alone or as part of a wider sign package, they will help enhance the environment of any business.
For a free sign quote reach out to your trusted sign company in the Los Angeles area. Contact Premium Sign Solutions. Southern California Sign Company based in Tarzana. Also serving San Fernando Valley, Pomona, West Los Angeles and all of Southern California.
About the Client
Amy's Pastry began in 1954 and throughout the decades they have been committed to high quality baked goods from custom cakes, pastries, pies, cookies and more.