Lobby Sign for Metropolis Dermatology
We made a lobby sign for Metropolis Dermatology's new location in Los Angeles. The sign looks stylish and matches their new decor theme. We used black acrylic and metallic brushed faces mounted on a beige background. It's the third lobby sign in this multi-location sign project we've made for them. The design of each sign has evolved along with its styling and decor over the years.
The doctor's office sign encompasses Metropolis Dermatology's aim to embody young urban energy and provide its patients with advanced medical expertise, premium service, and the latest technologies. With their third location opening soon they're excited to welcome new patients to see the new styling.
Their new reception sign expresses the youthfulness of Metropolis Dermatology's aim for their customers.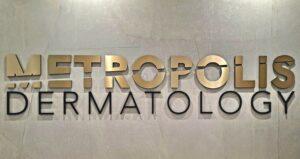 The lobby signs details
The lobby sign we made is 20 inches high and 96 inches wide. It's made of half-inch thick black acrylic with metal laminate brushed faces and mounted on a beige background, and lit by downlights.
Our client's latest decor styling for their new location opening works well with the reimagined sign finishes. It expresses the fresh urban energy that Metropolis Dermatology aims to embody for its customers.
We're a sign maker specializing in business and corporate signs. Our stylish design reflects our client's new decor theme, making their reception sign look even better.
Should you consider a lobby sign?
Absolutely! The lobby sign is a vital element for any business, as it's often the first thing visitors see when they enter a building. A well-designed lobby sign creates a positive and lasting first impression, conveying professionalism and attention to detail. So, it's important to make sure your business signage looks great and reflects the proud identity of your company.
And corporate signage is just as crucial in enhancing a company's branding and identity. By maintaining a consistent corporate sign design across all locations, businesses can create a cohesive and recognizable brand image. A lobby sign plays a key role in establishing a strong brand identity and leaving a lasting impression on customers. So, don't underestimate the power of great signage!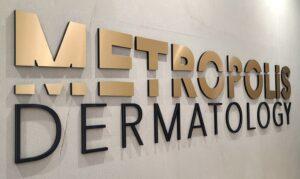 Final thoughts on Business signage
Looking for a fresh new look for your business signs? Whether you're revamping an existing location or opening a new multi-location branch, we've got you covered. Our team can match your new style finishes with your brand or logo to create a sign that makes a bold statement.
We offer full-service signage for companies throughout Los Angeles, so you can trust us to handle everything from design to installation. As sign makers, we specialize in manufacturing custom signs for all sorts of uses. And no matter the size or complexity of your signage needs, our team is committed to ensuring that your signs get seen. Let's create something amazing together!