Social service groups can use signage to convey the quality of the programs they are offering to those in need. This acrylic lobby sign for College Connect's office in Thousand Oaks enhances the space and adds to the professionalism of the organization.
Acrylic Lobby Sign Package for Offices, Workplaces, Schools and Firms
Whether you are operating a business or a social program like College Connect, signs are crucial in showing potential customers or program beneficiaries the caliber of the organization's offerings. Quality signs will suggest that their services, products or facilities are similarly dependable.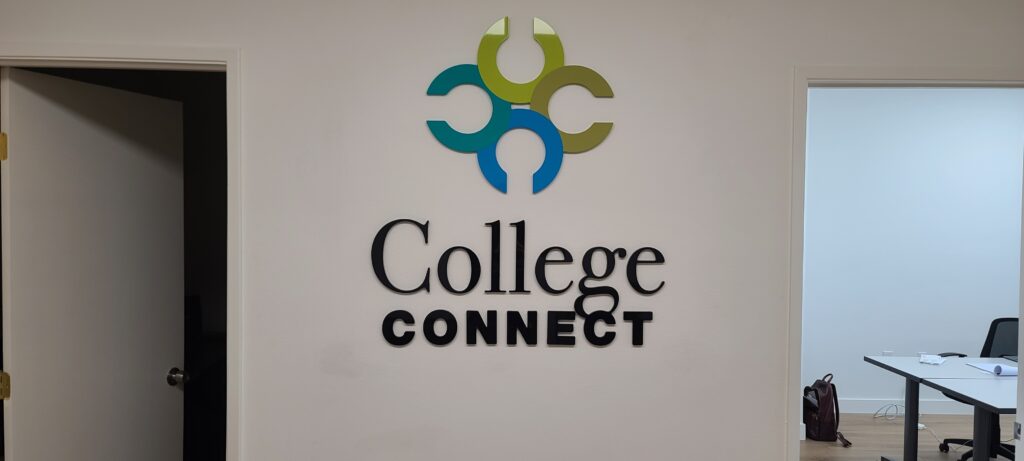 Signage can improve the appearance of their offices and facilities, which will impress visitors, potential customers or beneficiaries, giving them confidence in the organization. As well as boost the morale of the team, as with visually impressive signs they will be reminded that they are part of a greater institution that functions due to their efforts. The sign symbolizes them all and shows what they are working for.
With lobby signs, the establishment will have a focal centerpiece. Acrylic is an ideal material for this because it is lightweight yet durable and can be formed into all sorts of shapes. So acrylic signs can form letters as well as symbols and logos. And they can be manufactured in significant quantities. This makes them ideal for broader sign packages for decorating entire establishments with high-grade and consistent signage.
For a free sign quote reach out to your trusted sign company in the Los Angeles area. Contact Premium Sign Solutions. Southern California Sign Company based in Tarzana. Also serving San Fernando Valley, Pomona, West Los Angeles and all of Southern California.
About the Client
College Connect is a program that supports students with developmental disabilities so they can achieve goals and find success academically and occupationally.