How Custom Lobby Signs Benefit Small Businesses: A Case Study of Prism Optometric
Are you like Prism Optometric who faced several challenges when it came to creating their lobby sign? They needed a sign that accurately represented their brand and conveyed their message and values, while also being visible and easily readable to customers. Additionally, they had a limited budget due to ongoing store renovations. As a result, they turned to Premium Sign Solutions for help.
Prism Optometric is a leading optometrist located in Monrovia, California. The business is dedicated to providing the most comprehensive eye exams to patients in Monrovia and the surrounding areas. The team at Prism Optometric uses advanced technology and patient education to detect eye diseases even in the earliest stages. The business also offers a vast selection of contact lenses and frames to suit every face and preference. Prism Optometric aims to provide compassionate eye care in a family-friendly environment, building long-term patient relationships based on trust and integrity. The business is committed to giving back to the community by helping the underserved and lifting them up.
As a leading signage company based in Los Angeles, we specialize in creating custom lobby signs that catch customers' attention and elevate brands. We understand the importance of a lobby sign that accurately represents a brand's message and values, and we work closely with our clients to create a design that suits their aesthetic preferences and budget. Our team of experts helped Prism Optometric create an aesthetically pleasing lobby sign that complemented the store's overall look and enhanced the customer experience.
Entrance Sign Details 
Prism Optometric's new entrance sign is a stunning addition to their reception area. Measuring 11 inches high by 36.1 inches wide, it's made from ½ inch thick flat cut acrylic. The sign features PRISM in 4.7 inch high letters and OPTOMETRIC in 2 inch high letters, both mounted on the wall within a painted grey triangle. The sign is easily visible when entering their store and accurately represents the brand, conveying its message and values. It's an aesthetically pleasing addition to the reception area that complements the overall design and enhances customers' experience. This sign is part of the work we helped with. We made a channel letters sign and a pylon signs for them too.
---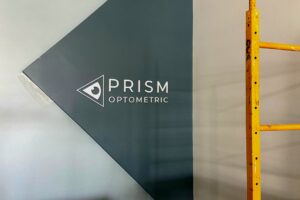 Benefits of Lobby Sign for Small Businesses 
By partnering with Premium Sign Solutions, Prism Optometric was able to overcome their challenges and create a lobby sign that accurately represented their brand, was visible to customers, and fit within their budget. Let us provide you with the best signage solution for your business.
Custom full-service signage solutions can offer significant benefits to small businesses. Firstly, customized signage can help small businesses stand out and differentiate themselves from their competitors. A well-designed and professionally crafted sign can attract more customers and make a lasting impression.
Secondly, custom signage solutions can help small businesses create a consistent brand image across all their marketing materials. A cohesive and consistent brand identity can help build brand awareness and increase customer loyalty.
Thirdly, full-service signage solutions can take the burden off small business owners by handling the entire signage process, from design to installation. This can save time, money, and effort that small business owners can invest in other areas of their business.
Lastly, custom full-service signage solutions can be tailored to the specific needs and budgets of small businesses. Working with a signage company that offers custom solutions means that small businesses can have signage that is designed to fit their specific requirements and budget constraints.
Final thoughts on lobby signs 
In conclusion, lobby signs can be a crucial aspect of a small business's branding efforts. As we've seen with Prism Optometric, a well-designed and professionally crafted lobby sign can enhance a store's look, catch customers' attention, and convey a brand's message and values. 
At Premium Sign Solutions, we specialize in providing custom full-service signage solutions to small businesses. We work closely with our clients to create aesthetically pleasing and cost-effective lobby signs that complement their stores' look and enhance their customers' experience. 
If you're a small business owner looking to enhance your store's look and attract more customers with a custom lobby sign, we invite you to contact us at Premium Sign Solutions. Our team of experienced designers and signage experts will work with you every step of the way to create a sign that meets your specific needs and budget constraints. Contact us today to learn more about how we can help elevate your brand with a custom signs.