These are the salon window graphics we fabricated and installed for the storefront of Nail It Salon in Culver City. They transform the otherwise bare glass surface, turning them into signage space, showing off the nail salon's branding to attract more customers.
Salon Window Graphics for Storefronts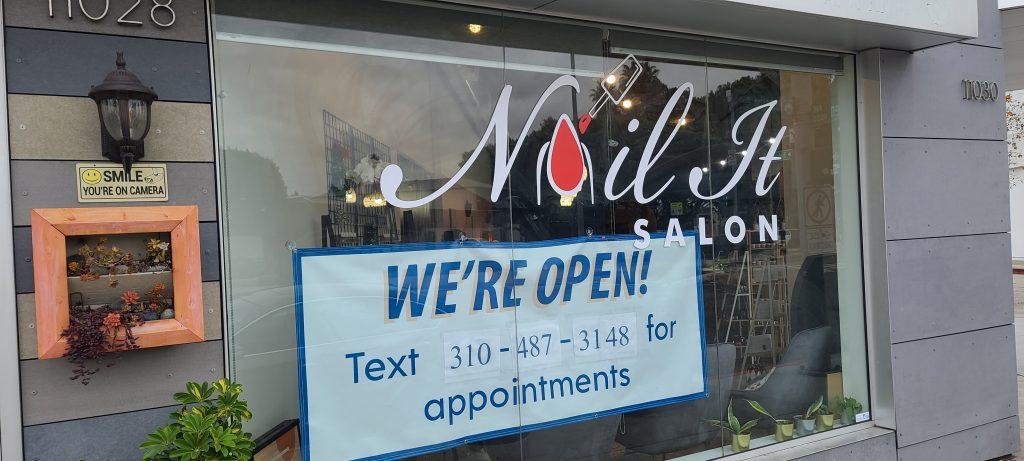 Passersby can glance at salon windows and see the excellent work being done, which will show the quality of the place, its staff and the results of their work, which will then draw in more customers who want to be beautified. These windows are also perfect spaces for signage, so salons can show off their brands and boost their visibility. They can also use these window graphics to provide pertinent information like business hours, the services they offer and more. Additionally, vinyl graphics for glass surfaces like windows and doors are quick and easy to create and install as well as replace. So new graphics for rebranding or seasonal motifs will take no time.
Need window graphics for your salon or boutique? Reach out to your trusted sign company in the Los Angeles area for a free sign quote. Contact Premium Sign Solutions. Southern California Sign Company based in San Fernando Valley.
About the Client
Nail It Salon offers manicure, spa pedicure and other beautification services with its friendly, dedicated and professional staff who deliver outstanding results.