Boost Business Visibility with Captivating Window Graphics | Premium Sign Solutions
Do you need window graphics? Are you running a thrift shop or clothing store, feeling lost in the crowd and longing for new customers to discover your business? Standing out in today's competitive market can be tough. 
Key Takeaway Points 
Window graphics attract customers with captivating storytelling.

Enhance visibility and branding for business success.

Customizable designs match your brand's unique aesthetics.

Trust Premium Sign Solutions for top-notch signage solutions.
Premium Sign Solutions is here to be your ultimate solution provider for all your signage needs. With our expertise in window graphics and lobby signs, we can help you attract attention, elevate your brand, and tell your unique story to the world. Let's collaborate and make your business shine with eye-catching and captivating signage that leaves a lasting impression on everyone who passes by.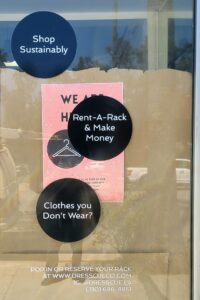 Collaborating for Window Graphics 
Meet "Dresscue," a unique clothing store with a captivating background story – they moved all the way from Finland to Los Angeles, searching for new opportunities. Inspired by the "rent-a-rack" concept from Nordic countries, Dresscue envisioned bringing second-hand shopping to the United States. 
Premium Sign Solutions stepped in as their creative collaborator, crafting signage that reflects their style and narrative. By understanding their vision, we designed custom window graphics and lobby signs that tell their story, helping Dresscue stand out and attract curious customers. The result is a harmonious blend of art and business, leaving a memorable impression on all who visit.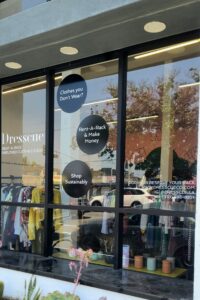 Window Graphics Signage Design 
The design process for Dresscue's window graphics involved careful consideration of their brand message and identity. The double-sided lightbox inserts in Ventura, sized at 47 inches high by 95.5 inches wide, were made from directly printed 3/16 inch white Lexan. Window 1 featured the Dresscue logo and slogan in cut white vinyl lettering (10.4 inches high by 27.5 inches wide), while Window 2 displayed three circles with phrases as digital prints, cut to shape (18 inches high by 18 inches wide each). 
Additional cut white vinyl lettering for website, Instagram, and phone (6.2 inches high by 24.9 inches wide) completed the eye-catching graphics. In Glendale, similar elements adorned Window 1 (12.4 inches high by 27.5 inches wide), Window 2 (50.5 inches high by 25.5 inches wide), and Window 3 (6.2 inches high by 24.9 inches wide), creating a cohesive and visually appealing design.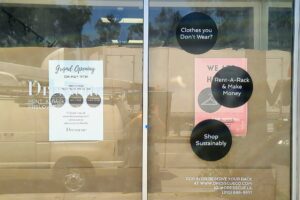 Benefits of Window Graphics 
Window graphics work like a magnetic force, drawing in new customers to your business like bees to honey. Their eye-catching charm transforms your storefront into a captivating storybook cover, enticing passersby to step inside and explore the wonders within.
Enhanced visibility and branding are the secret ingredients that make your business stand out in the bustling marketplace. Just like a lighthouse guiding ships safely to shore, window graphics illuminate your brand's identity, making it visible from near and far.
Think of window graphics as the fashion-forward accessories that elevate your business's outfit, making it a showstopper in the crowded fashion parade of commerce. Their memorable presence lingers in the minds of potential customers, ensuring your brand remains unforgettable in their hearts.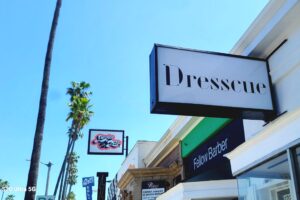 Frequently Asked Questions
Are window graphics durable and weather-resistant?
Absolutely! Our window graphics are designed to withstand the elements, from scorching sun to rainy days. They are made from high-quality materials that ensure long-lasting performance and vibrant colors.
Can window graphics be easily removed without damaging the glass?
Yes, indeed! Our window graphics are removable and won't leave any sticky residue behind. They are easy to install and can be taken down effortlessly when needed.
Do window graphics obstruct visibility from inside the store?
Not at all! Our window graphics strike the perfect balance between visibility and allure. They let natural light shine through, allowing a clear view from inside while captivating the attention of those outside.
Can window graphics be customized to match our brand's aesthetics?
Absolutely! Our window graphics are fully customizable to reflect your brand's personality and style. From colors to fonts, we'll tailor the design to align seamlessly with your unique identity.
Are window graphics suitable for all types of businesses?
Yes, indeed! Window graphics are a versatile marketing tool that suits various businesses, from boutiques to restaurants. They serve as the ideal storefront canvas to showcase your business's essence and allure curious passersby.
Let us know if you have any more questions. We're here to help you make the best impression with captivating window graphics!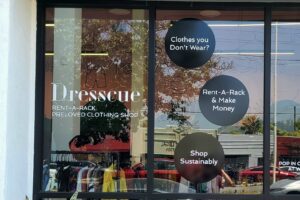 Final Thoughts on Window Graphics 
In conclusion, window graphics are a powerful tool for businesses like Dresscue, leaving a lasting impression and attracting new customers. If you're seeking captivating signage solutions, look no further. Trust Premium Sign Solutions to elevate your brand and make your business shine. Let's create your captivating story together!