Upgrade Your Business's Look with Premium Sign Solutions – Unique Custom Outdoor Signs Designed and Installed for House of Barrie
Our team at Premium Sign Solutions recently completed the installation of unique outdoor signs for the House of Barrie, featuring a sleek 3D letter design above their entrance and a center sign post insert sign.
Barrie Livingstone, a renowned interior designer and real estate agent with over three decades of experience in the hospitality and residential industries, leads our team. He is committed to providing valuable insight to clients and matching the right property with the right people. With a passion for global building design, Barrie's unique combination of skills makes him an ideal choice for designing or renovating a property.
Whether you need custom outdoor signs, business signs, commercial signs, outdoor advertising, signage design, sign installation, or LED signs, Premium Sign Solutions has the expertise to create a unique solution tailored to your business's needs. Contact us today for a free quote and let us help you upgrade your business's look!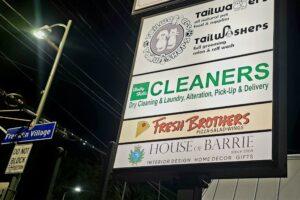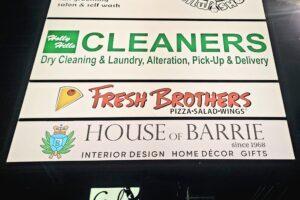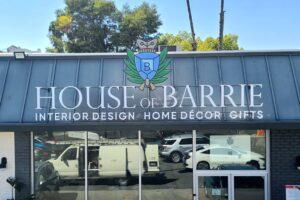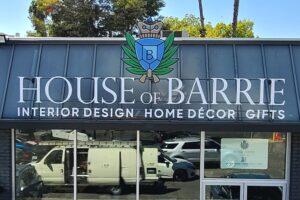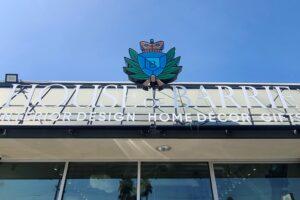 Upgrade Your Business's Visibility with Custom Outdoor Signs
House of Barrie recently partnered with Premium Sign Solutions to upgrade its outdoor signage. The result is a stunning and unique acrylic sign above the store entrance, featuring the House of Barrie branding with the store roof as the fill between the letters. The overall size of the sign is 36 inches high by 188.2 inches wide and the material used is a sturdy ½-inch thick acrylic.
In addition, we created an illuminated inserts sign for the center signpost, which showcases the House of Barrie branding in a unique and eye-catching way. The overall size of this insert sign is 18.5 inches high by 114.5 inches wide, and it was crafted with pylon inserts.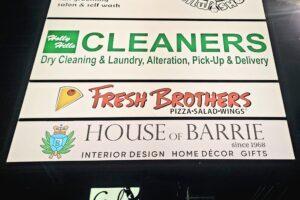 With these new custom outdoor signs, House of Barrie has instantly become more visible and recognizable to its customers. The signs reflect their brand and help them stand out in a competitive marketplace. Other businesses can benefit from custom signage too, whether it's building signs, storefront signs, channel letters, or even digital signage. A well-crafted sign can make a huge difference in attracting new customers and increasing visibility.
At Premium Sign Solutions, we are experts in creating custom outdoor signs that reflect your brand and make a lasting impression. Our team works closely with you to understand your business needs and design a sign that meets those needs. Contact us today to learn more about how we can help your business stand out with high-quality, custom signage.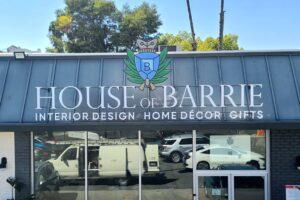 Creative House of Barrie's New Outdoor Signs
Maximize Your Business's Potential with Outdoor Signs 
If you're considering upgrading your business's outdoor signage, here are a few tips to keep in mind:
Consider the position: 
The placement of your sign can have a huge impact on its effectiveness. Think about where your sign will be seen and how it can best grab people's attention.
Choose the right type of sign: 
There are many different types of outdoor signs to choose from, including monument signs, pylon signs, directional signs, and wayfinding signs. Each type of sign serves a different purpose, so be sure to choose the one that best fits your needs.
Keep it simple: 
A cluttered or overly complex sign can be difficult to read and may not be effective in grabbing people's attention. Keep your design simple and focused on your core message.
Once you have your sign in place, it's important to keep it well-maintained. Premium Sign Solutions offers sign repair and maintenance services to keep your sign looking great and functioning properly.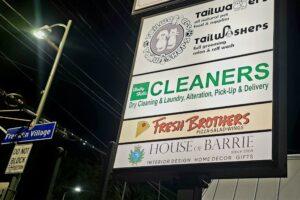 Conclusion 
As a leading Los Angeles full-service signage company, we specialize in providing signage solutions for businesses of all types and sizes. Whether you need a custom outdoor sign or a complete sign system, we can help. Contact us today for a free quote and let us help you take your business to the next level with high-quality, custom signage.