Enhancing Visibility and Branding: Lux Pharmacy's Stunning Indoor Sign
Are you a business feeling well and ready to be discovered, or do you find yourself hidden in the crowd, longing for new customers to find you? The significance of an indoor sign cannot be underestimated. It holds the key to standing out and attracting customers within your space. 
Key Takeaway Points 
High-quality indoor signage enhances brand visibility, leaving a lasting impression on customers.

Customized collaboration with Premium Sign Solutions reinforces Lux Pharmacy's unique identity and style.

Fabricated acrylic and brushed metal materials exude sophistication and durability for premium indoor signs.

Invest in indoor signage to elevate your business's image, attract customers, and improve brand recognition.
At Premium Sign Solutions, we understand these challenges and offer tailor-made solutions to elevate your business visibility and branding efforts through stunning interior signage.
The Collaboration of the Indoor Sign 
At Premium Sign Solutions, our collaboration with Lux Pharmacy begins by delving into their unique style and the story driving their business. Understanding their vision is crucial in crafting signage that resonates with their identity. Through close communication and creative brainstorming, we tailor-made the indoor sign to align perfectly with Lux Pharmacy's brand image and values. The use of fabricated acrylic sign and brushed metal materials exudes sophistication, reflecting their commitment to quality service. The result is a custom lobby sign that not only enhances visibility but also embodies Lux Pharmacy's essence, leaving a lasting impression on their customers.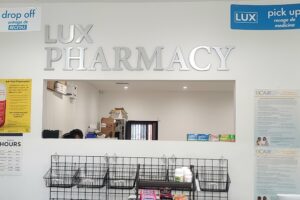 Details of Luxs' Interior Sign 
The indoor sign we designed for Lux Pharmacy is a true testament to elegance and professionalism. Standing at 20 inches high and 82 inches wide, it commands attention without overwhelming the space. The lettering, with "LUX" at 8 inches tall and "PHARMACY" at 10.4 inches tall, strikes the perfect balance of visibility and readability.
To achieve a sophisticated and upscale look, we used 1/2 inch thick acrylic with brushed metal faces. This choice of materials exudes a sense of quality and attention to detail, reflecting Lux Pharmacy's commitment to excellence in their services. The sign's design seamlessly complements the pharmacy's interior, blending in harmoniously with the overall ambiance, making a lasting impression on visitors and customers alike.
Benefits of an Indoor Sign 
Indoor signage offers a multitude of advantages for businesses like Lux Pharmacy. Firstly, it significantly enhances visibility, ensuring that their presence is noticed and remembered by customers. Secondly, it plays a crucial role in improving brand recognition, reinforcing Lux Pharmacy's identity, and creating a lasting impression. 
A well-designed indoor sign helps customers navigate the space effortlessly, leading them to the desired areas and products. By providing clear direction and information, the signage enhances the overall customer experience, fostering a sense of trust and reliability. Ultimately, investing in quality indoor signage proves to be a valuable asset, positively impacting Lux Pharmacy's business growth and customer satisfaction.
FAQ About Indoor Signs
How does interior signage impact a business's branding efforts?
Interior signage plays a pivotal role in boosting a business's branding efforts by reinforcing its visual identity and message throughout the establishment.
How do indoor signs contribute to creating a strong brand presence within your establishment?
Indoor signs create a strong brand presence by showcasing the business's logo, colors, and design elements, leaving a lasting impression on customers.
What materials are commonly used for sn indoor sign?
Commonly used materials for indoor signs include fabricated acrylic signs and brushed metal, known for their durability and appealing aesthetics.
How long does the signage installation process typically take?
The signage installation process typically takes a few weeks from design approval to final installation, with Premium Sign Solutions ensuring efficient and timely completion.
Can indoor signs be customized to match the business's existing branding elements?
Yes, indoor signs can be fully customized to align with the business's existing branding elements, and Premium Sign Solutions excels in offering tailored solutions to achieve coherence with Lux Pharmacy's brand image.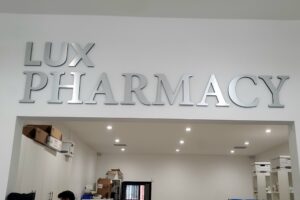 Final Thoughts on Indoor Sign 
In conclusion, indoor signage holds immense importance for businesses, like Lux Pharmacy, seeking to enhance their brand presence and attract customers. Premium Sign Solutions' collaboration with Lux Pharmacy exemplifies the power of understanding a business's style and values, resulting in a captivating and customized indoor sign. This collaboration has not only boosted Lux Pharmacy's visibility but also reinforced their unique identity within the community.
Consider the benefits of investing in high-quality indoor signage for your own business. Premium Sign Solutions stands ready to provide tailor-made solutions that align with your vision, making a significant impact on your business's growth and success.