Make your Branding Shine with Channel Letter 
We recently helped Shepherd Church in Woodland Hills with designing and installing a channel letter sign. Shepherd Church has multiple campuses in Greater Los Angeles and a strong online presence. They're known for reflecting diversity and love for all people, and have been recognized as the most racially diverse church in L.A. Visitors can expect worship, children's and youth programs, and Biblical teaching. The church also participates in local and global missions projects.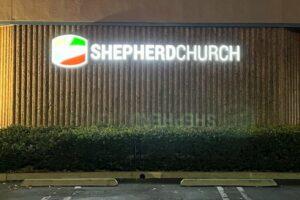 Channel Letter Sign for Any Organization 
We understand that each organization has unique signage needs, which is why we offer a range of services including church signs, channel letter signs, custom channel letter signs, and illuminated signs. We proudly offer a wide variety of signage services to meet all unique companies' needs too. Our signage services include commercial signage, exterior signage, building signs, wall-mounted signs, and more for businesses and storefronts. We handle all aspects of signage, from design to installation of the best quality materials. Our team has the expertise to create custom signage solutions that align with your organization's branding and messaging. From design to fabrication and installation, we work closely with each client to ensure a seamless and stress-free process. Let us help you enhance your company's visibility and make a lasting impression with high-quality signage.
The Bright New Sign 
We recently completed an exciting project for a church where we installed a large, eye-catching sign that measured 31 inches by 180 inches. The sign featured a 4-inch deep illuminated channel letter, which were mounted on a raceway for added durability and visibility. This type of signage is not just limited to churches, it's also a great option for other organizations and companies that want to stand out and enhance their visibility. With our expertise in sign design, fabrication, and installation, we can create a custom signage solution that aligns with your organization's branding and messaging and helps you make a positive impact in your community.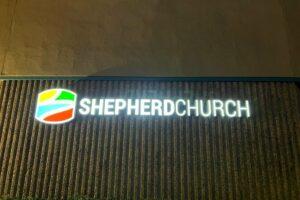 Final thoughts on Channel Letter Signs 
When it comes to promoting a business or organization, signage plays a crucial role in attracting potential customers or visitors. Church signs, channel letter signs, custom channel letter signs, illuminated signs, and LED signs are just a few examples of the different types of signage that can be used to showcase a brand or message. The importance of high-quality business signage cannot be overstated, as it serves as a powerful marketing tool that can help build brand recognition and attract customers. From exterior building signs to wall-mounted signs, the design, fabrication, and installation of signage require careful consideration of types of materials and branding elements. Whether it's for a storefront or a commercial building, effective signage can help create a lasting impression and drive business growth.