Dimensional Unlit Signs Could Boost a Restaurant's Success 
The Bolt team created a great breakfast and lunch spot in Hermosa Beach. Their goal was to make a New York-style breakfast restaurant where people can hang out and enjoy delicious food. They offer breakfast burritos, coffee, and in-house-made baked goods. But they said they soon realized that their business required a large sign to attract more customers. We suggested dimensional unlit sign to boost their restaurant's client-attracting success. 
To stand out and draw more customers, they decided to add impressive business signage. They chose a custom dimensional sign, it being a 3D sign, and a non-illuminated sign. They wisely invested in the exterior signage for the building to have a wall-mounted sign to create an attractive outdoor advertising display. The team knew that the design, fabrication, installation, and maintenance of signage were critical to creating an effective branding and advertising strategy.
Thanks to their efforts, Bolt quickly became a local favorite, and their storefront business signage played a significant role in their success. If you want to build a thriving business, it's vital to invest in effective storefront signage for your marketing success.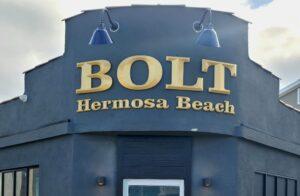 Three Dimensional Unlit Signage for Outdoors 
Bolt opted for a custom dimensional unlit sign and appreciated our suggestion for 3D signage outside their restaurant. The sign measured 29.5 inches high by 96 inches wide and consisted of two parts: the "BOLT" and "Hermosa Beach" letters. Both letters were made from formed plastic with prismatic faces, and the "BOLT" letters were 1.5 inches thick, while the "Hermosa Beach" letters were 0.75 inches thick. Fitted proudly from the wall the letters give an extra visual dimensional effect.
The Bolt team recognized that exterior signage was important, and having building signs, like wall-mounted signs, is essential for a successful commercial signage strategy. By using three dimension signs, even only non-illuminated signs, they made their business stand out from the crowd. These types of dimensional unlit signs are an effective way to create unique and eye-catching business signage for outdoor advertising.
If you want to create an effective branding and advertising strategy for your business, investing in custom business signs and 3D signs is an excellent way to make your business stand out. By choosing the right exterior signage, for building signage, and using elevated wall-mounted signs viewable from a distance, you can create a commercial signage display that will attract new customers and help your business thrive.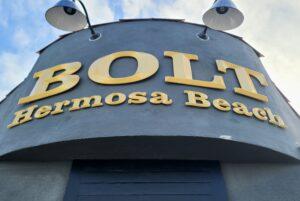 Final Thoughts on Dimensional Unlit Sign 
Custom dimensional unlit signs or 3D signs are great investments for businesses looking to stand out in their area. Expert guidance from a professional signage company can help with signage design, fabrication, installation, and maintenance. Premium Sign Solutions, for example, can masterfully design and install signage to create a commercial signage display that will attract new customers and help a business thrive.
Investing in Premium Sign Solutions signage can help showcase a brand effectively and attract new customers, making it a smart move for businesses looking to grow. Consider signage for storefronts, branding signage, advertising signs, marketing signage, and other types of signage for your business.