Graffiti and vandalism.  An everyday reality, and a common challenge facing business owners in any city. Here we can see what happened to a sign at the Toluca Baseball field, and they came to us looking for a solution.  Luckily, signage technology can help alleviate some of these problems with anti-graffiti laminate!  Now the Studio City establishment's sign is much more secure. 
Protect Your Signs from Vandalism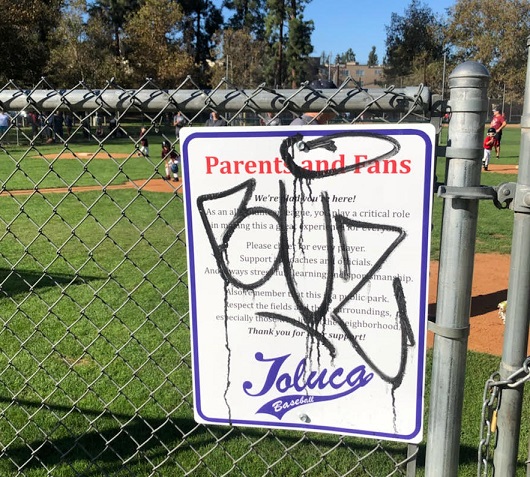 Signs are an investment and it would be a major drag to find your company logo just defaced by troublemakers. Whether it's a shiny new sign or one that's been with you for a while, you shouldn't have to get it replaced before its time. So consider graffiti-proofing your signage. Such measures will also guard it from outdoor sign hazards such as debris and the elements. Think of it securing your investment. After all, a business that takes care of its signs shows customers that it is thorough, proactive and thoughtful, whereas dilapidated displays give off sketchy vibes.
Looking to vandal-guard and graffiti-proof your signs? Contact our Tarzana-based sign company for inquiries.
About the Client
Toluca Baseball offers boys and girls a splendid opportunity to learn the sport in a fun, nurturing environment.