Transforming Aroma 360: Outdoor and Indoor Signs by Premium Sign Solutions
Do you need an outdoor sign? Are you a small business owner, perhaps running an aroma store? Do you ever feel like your shop's image needs an upgrade? Are you hoping to be discovered by new eyes in your community? If you answered yes to any of these questions, you're in the right place. We understand the challenges businesses face when it comes to creating a captivating storefront. That's why we're excited to introduce Premium Sign Solutions as your solution provider. 
Key Takeaways 
Premium Sign Solutions: Crafting Aroma 360's signs with precision, uniting artistry and branding for lasting impact.
Outdoor Signage Magic: Stunning outdoor signs, 1-inch thick acrylic, brushed brass, making brands unforgettable.
Seamless Elegance: Interior signs mirror luxury, ½-inch acrylic, Brushed Light Brass, captivating with style.
Aroma 360's Story: Signs are not just displays; they're chapters in a brand's captivating journey.
Join us on a journey through our collaboration with Aroma 360 in Malibu, where we transformed their outdoor and indoor signs to match their unique style and story.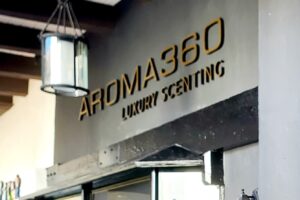 Collaborating with Aroma 360 for Their Outdoor Sign and Interior sign 
Our journey with Aroma 360 began with a shared vision – to enhance their business's ambiance through visually striking signage. At Premium Sign Solutions, we pride ourselves on understanding our clients' stories and objectives. Aroma 360's commitment to using scents to transform spaces resonated with us, and we were determined to craft signage that mirrored their mission.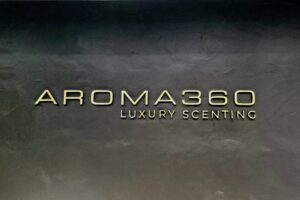 Crafting the Perfect Ourdoor Sign
Let's delve into the heart of our collaboration with Aroma 360, where storytelling and craftsmanship seamlessly merge. Outdoor signs hold the enchanting ability to captivate passersby and etch indelible memories. Here's the captivating tale of the signs we meticulously designed:
The first outdoor sign standing proud at a size of 18 inches in height and 144 inches in width, this sign was carved from 1-inch thick acrylic, adorned with a luminous Brushed Light Brass finish. AROMA 360, a bold statement at 9.4 inches, and LUXURY SCENTING, a graceful presence at 5 inches, adorned this masterpiece.
The second outdoor sign is a more modest yet equally enchanting creation, this sign measured 7.5 inches in height and 60 inches in width. Crafted from ½-inch thick acrylic, it too donned the radiant Brushed Light Brass finish. AROMA 360 maintained its elegance at 3.9 inches, while LUXURY SCENTING whispered its charm at 2 inches.
But our artistic journey with Aroma 360 didn't conclude there. Let's venture indoors and unveil the secrets of their interior signs:
Gracefully proportioned at 7.5 inches in height and 60 inches in width, these indoor signs continued the theme. Fashioned from ½-inch thick acrylic enriched with laminate, they exuded the same radiant Brushed Light Brass finish. AROMA 360 breathed life with a height of 3.9 inches, while LUXURY SCENTING cast its enchantment with a 2-inch stature.
Picture this: Aroma 360's story, intricately woven into every fiber of these signs, begins to unfold. The choice of materials, the brushed light brass finish, every detail meticulously crafted to perfection. Each sign is not merely a display; it's a chapter in their brand's journey, exuding luxury and aligning seamlessly with their identity.
Our collaboration with Aroma 360 transcended the realm of signage; it was an artful narration of their story. Stay tuned for more of this enchanting transformation.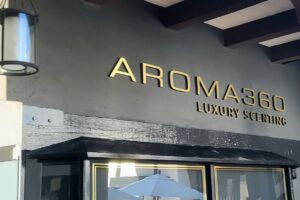 Benefits of Outdoor and Indoor Signs
Investing in outdoor and indoor signs can significantly impact your business's visibility and appeal. Outdoor signs, like the ones we created for Aroma 360, serve as permanent advertising, drawing potential customers in. Indoor signs, with their brushed light brass finish, provide a seamless transition from the exterior, reinforcing brand consistency.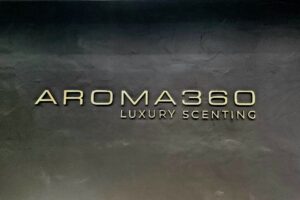 Answering Your Questions About an Outdoor Sign 
As business owners, you might have questions about signage. Let's address some common queries:
What makes outdoor signs crucial for businesses?
Outdoor signs are like silent salespeople, working 24/7 to attract attention, convey your brand message, and draw in customers. They're a long-term investment in your business's visibility and success.
How do I choose the right materials for indoor signs?
The choice of materials for indoor signs depends on your brand's aesthetic and purpose. Acrylic with laminate, as used in Aroma 360's signs, offers durability and a polished look.
Will outdoor signs withstand harsh weather conditions?
Yes, outdoor signs are designed to withstand various weather conditions, ensuring that your brand remains visible regardless of the elements.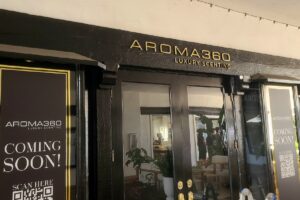 Final Thoughts on an Outdoor Sign 
In transforming Aroma 360's signage, we witnessed the power of merging artistry and branding. Premium Sign Solutions specializes in crafting custom-designed signs that elevate your business's image. If you're in Los Angeles, Malibu, or anywhere in California, and are looking for a signage maker, consider us. We're not just a signage company; we're your partners in making your brand shine. Contact us today, and let's transform your business's image together.
Thank you for joining us on this journey, and we look forward to being a part of your success story.