Illuminating Success: Channel Letters Sign for Broad Street Oyster at Huntington Beach
Do you need channel letters signage? Are you a restaurant or fast food outlet that often feels unnoticed, yearning for the gaze of new customers? Do you find yourself searching for a solution to this common challenge? 
Key Takeaways Points 
Outdoor logo exposure to amplify visibility, custom-crafted to reflect your brand's unique story and style.
Back-lit wall signage shine day and night, standing out with durable, energy-efficient LED illumination.
Boost brand recognition with outdoor three-dimensional sign, customizable, and attention-grabbing design.
Premium Sign Solutions is your partner in crafting signage that tells your business's story brilliantly.
In this article, we introduce you to the remarkable world of signage and how Premium Sign Solutions can help you shine brighter than ever before.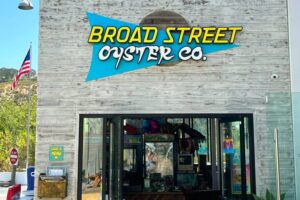 Collaborating with Broad Street Oyster: Crafting Their Story in Signage
Our journey begins with Broad Street Oyster Co., masterminded by Christopher Tompkins, a passionate seafood connoisseur committed to evoking the coastal ambiance. They didn't stop at seafood alone; they ventured into the world of coffee too. In the heart of a Malibu strip mall, they created not only a seafood lover's paradise but also their coffee oasis.
Yet, the challenge remained – how to entice passersby to step inside and experience this coastal haven? The answer is found in the art of crafting signage that narrates your business's unique tale.
At Premium Sign Solutions, we're more than sign makers; we're storytellers. We collaborate closely with our clients to ensure that every sign we create is a reflection of their brand's essence. For Broad Street Oyster Co., it was about capturing the sea's spirit, the coastal vibes, and the lively party atmosphere that set them apart. From seafood to coffee, we've got your story covered.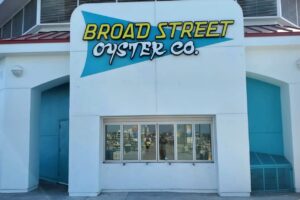 Designing the Back-Lit Channel Letters Sign
Now, let's delve into the core of our Broad Street Oyster Co. project—the back-lit channel letters sign. This remarkable signage structure reaches towering heights, measuring approximately 77.2 inches in height and spanning 171 inches in width, establishing itself as an unmistakable emblem of hospitality.
Our team meticulously selected the materials for this project, ensuring both longevity and an awe-inspiring visual presence. These materials include a sturdy 0.060-inch thick aluminum face, a precise 2-inch by 0.040-inch aluminum return, and the use of 3M's high-performance white and yellow opaque vinyl cutouts. The pièce de résistance is the 65K bright white LED system, which bathes the sign in radiant light, rendering Broad Street Oyster Co. impossible to ignore.
The choice of materials was deliberate, with durability and aesthetic appeal at the forefront. The brilliant white LED system, in particular, bestows a captivating luminosity upon the sign, ensuring that Broad Street Oyster Co. shines brilliantly in the bustling atmosphere of Huntington Beach.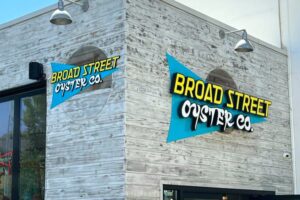 Benefits of Channel Letters for Building Visual Exposure
Now that you've seen the impressive results, let's explore why channel letters are the go-to choice for businesses looking to enhance their visibility. Outdoor signs offer several advantages, making them a top choice for real estate building visual exposure:
Customization: Each letter is custom-crafted to match your brand's style, ensuring a unique and eye-catching look.
Illumination: With options for back-lit or front-lit letters, your signage shines day and night, catching the attention of potential customers 24/7.
Durability: Constructed from high-quality materials, wall signage withstand the elements, making them a long-term investment in your business's success.
Brand Recognition: A well-designed sign reinforces your brand identity, making your business instantly recognizable.
Frequently Asked Questions
Now, let's address some common questions that entertainment service businesses may have about outdoor signage:
How do channel letters differ from other signage options?
Channel letters are three-dimensional, individually crafted letters that can be illuminated. They offer a unique and attention-grabbing alternative to flat signage.
Can outdoor signs be customized to match my brand's aesthetic?
Absolutely! Signage are highly customizable in terms of color, font, and size, allowing you to maintain brand consistency.
Are LED back lighting energy-efficient?
Yes, they are! LED are energy-efficient and cost-effective in the long run.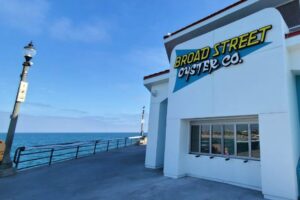 Final Thoughts 
In conclusion, the story of Broad Street Oyster Co.'s wall sign is a testament to the power of signage in transforming businesses. Premium Sign Solutions is your partner in creating signage that not only attracts but also tells your unique story.
Are you ready to elevate your business's visibility with outdoor signage like Broad Street Oyster Co.? Contact Premium Sign Solutions today and let us illuminate your success!