Elevating Social Services Visibility: The Coalition for Family Harmony Lobby Sign
Do you need a lobby sign? Are you a care facility or social services organization struggling to be seen and heard in a crowded world? Are you hoping to reach new eyes and make a lasting impact? 
Key Takeaway Points 
Memorable First Impressions

: Lobby signs create a lasting impression that embodies your social service mission.
Unique Customization

: Premium Sign Solutions crafts lobby signs tailored to your brand's identity and vision.
Enhanced Visibility

: Elevate your presence with impactful signage, making your social services stand out.
Durable Quality:

Our signs are built to last, ensuring longevity and minimal maintenance for your organization.
Partner in Impact

: Trust Premium Sign Solutions to be your ally in conveying your social service's vital message.
In this blog post, we will dive into how Premium Sign Solutions tackled these challenges for the Coalition for Family Harmony in Oxnard, using their lobby sign as a beacon of hope and change.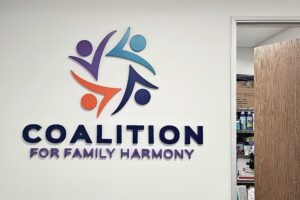 Introducing Coalition 
The Coalition for Family Harmony, since 1976, has been dedicated to aiding victims of family violence, offering them the support they need to break free from abuse. With a 24-hour bilingual crisis hotline and a wide range of shelter-based programs, the Coalition is committed to Building Stronger Families and eliminating violence in the home.
Lobby Sign Collaboration and Crafting
Collaboration is key when it comes to crafting a lobby sign that truly resonates with the client. At Premium Sign Solutions, we work closely with our clients to understand their style and the story behind their mission. For the Coalition for Family Harmony, this meant aligning our design with their goal of ending domestic violence and supporting survivors.
Lobby Sign Design and Details
The lobby sign we created for the Coalition for Family Harmony stands at an impressive 36 inches high and 48.7 inches wide. Crafted from 1-inch thick flat cut acrylic, it boasts a custom-painted finish that ensures its uniqueness. The letter heights of "COALITION" at 5.2 inches and "FOR FAMILY HARMONY" at 2.5 inches are meticulously designed for readability and impact. The logo, measuring 25.3 inches high by 25 inches wide, completes the visual identity.
Benefits of Lobby Signs for Social Services
Now, let's talk about why lobby signs are invaluable for social service buildings. These signs go beyond aesthetics; they provide a visual identity, creating a lasting impression on visitors and passersby. For an organization like the Coalition for Family Harmony, it's about being seen as a beacon of support and change within the community. A well-designed lobby sign can convey trust, credibility, and commitment.
Lobby Sign FAQs for Social Service Businesses
Here are some common questions social service businesses may have about lobby signs:
Can a lobby sign be customized to match our organization's branding?
Absolutely! At Premium Sign Solutions, we specialize in custom-designed signs that align with your brand's identity.
How durable are lobby signs, especially for outdoor use?
Our signs are built to last. We use high-quality materials and offer maintenance services to ensure longevity.
Can you assist with other signage as well?
Yes, we can! We provide services like monuments, window wraps, channel lettes, installation, and maintenance of custom designs to enhance your visibility.
What's the typical turnaround time for creating a lobby sign?
Our efficient design and fabrication process ensures a prompt turnaround, so you can start making an impact sooner.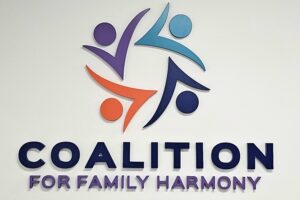 Final Thoughts and Call to Action
In a world where visibility is key, a well-crafted lobby sign can be a game-changer for social service organizations. Premium Sign Solutions is here to bring your vision to life, just as we did for the Coalition for Family Harmony in Oxnard. Let your lobby sign be a symbol of your commitment to positive change. Contact us today to elevate your social services' visibility and make a lasting impression.
Your lobby sign isn't just a piece of decor; it's your message to the world, and we're here to help you deliver it with impact.
Premium Sign Solutions is your trusted partner for all your signage needs. We specialize in crafting customized signs that resonate with your brand and mission. Whether you're in Southern California or beyond, we're here to create signs that leave a lasting impression. Contact us today to get started on your signage journey.