Stand Out with a Stunning Monument Sign 
Are you a property manager or owner struggling to get noticed and invest in your business? Imagine your brand shining brightly on a monument sign, captivating new eyes and leaving a lasting impression. The challenge of lacking visibility can be daunting, but fear not – Premium Sign Solutions is here to be your beacon of success. 
Key Takeaway Points 
Monument signs boost visibility, leaving a lasting impression on potential customers.

Customizable designs reflect your unique style and branding, setting your business apart.

High-quality materials ensure durability and an impressive finish for your sign.

Premium Sign Solutions offers efficient installation and comprehensive maintenance services.

Elevate your business with our expertise in crafting captivating exterior monument signs.
As a full-service signage solutions provider based in Los Angeles, we'll collaborate with you to craft signage that tells your unique story and sets you apart from the competition. Let's embark on this transformative journey together.
Collaborating on the Monument Sign 
At Premium Sign Solutions, we take pride in collaborating with esteemed clients like DealPoint Merrill, who are dedicated to transforming commercial real estate assets into successful ventures. Our approach is all about teamwork, as we work closely with them to design custom monument signs and building signs that reflect their unique style and narrative. Through our expert signage design, we ensure their outdoor signs stand out and make a bold statement in the business landscape.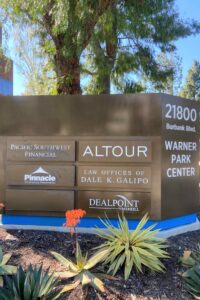 Monument Sign Details 
When it comes to designing your monument sign, we leave no detail unattended. Our meticulous design process involves careful consideration of size, materials, and installation options. For DealPoint Merrill's signage, we ensured an overall size of 12 inches high by 41.5 inches wide, using high-quality fabricated aluminum for the face and return. The letters, crafted with ⅜ inch Sign white acrylic push-thru, stand out elegantly. 
To add flair, we used 3M high-performance vinyl with artwork colors. With our full-service signage solutions, you can be confident in a captivating and impactful final product, enhancing your branding and making a powerful statement with striking exterior signage.
Benefits of a Monument Sign 
Monument signs offer a plethora of benefits that elevate your business to new heights. Firstly, they grant increased visibility, ensuring your presence is hard to miss, attracting potential customers effortlessly. Secondly, these signs establish a strong brand presence, reinforcing your identity and message with a lasting impact. 
Furthermore, monument signs add an air of sophistication to your property, elevating its overall look and feel. Passersby and clients alike will be captivated by the impressive aesthetics, leaving a lasting impression that speaks volumes about your commitment to excellence. Let Premium Sign Solutions help you unlock these advantages and watch your business soar.
FAQ's
What is a monument sign, and how can it benefit my business?
A monument sign is a freestanding, low-profile outdoor sign typically placed at entrances. It enhances visibility, attracting more customers and establishing a strong brand presence, making your business stand out.
Can I customize the design of my monument sign?
Absolutely! Premium Sign Solutions offers custom designs tailored to your style and branding, ensuring a unique and eye-catching sign that tells your story.
What materials are used in monument sign construction?
We use high-quality materials like fabricated aluminum and acrylic push-thru letters, ensuring durability and an impressive finish.
How long does the installation process take?
Our experienced team handles the installation efficiently, and the timeframe varies based on the complexity of the sign, usually taking a few weeks.
Can you handle sign maintenance and repairs?
Yes, we offer comprehensive sign maintenance and repair services to keep your monument sign looking great for years to come.
Rest assured, Premium Sign Solutions is here to address all your monument sign needs professionally and efficiently.
Contact Premium Sign Solutions 
Final thoughts, monument signs possess the transformative power to elevate your business visibility and branding to new heights. When it comes to exterior signage, trust the expertise of Premium Sign Solutions. Let us craft a captivating monument sign that leaves a lasting impression and sets your business apart from the rest. Choose success with Premium Sign Solutions today.