Motivational quotes make for great office signage. Inspiring words can decorate a lobby and brighten people's days while also complimenting the centerpiece. Like this dentist clinic lobby sign for Glendora Oral Surgery that says "Never underestimate the Power of the Tooth."
Inspire Smiles With Your Dentist Clinic Lobby Sign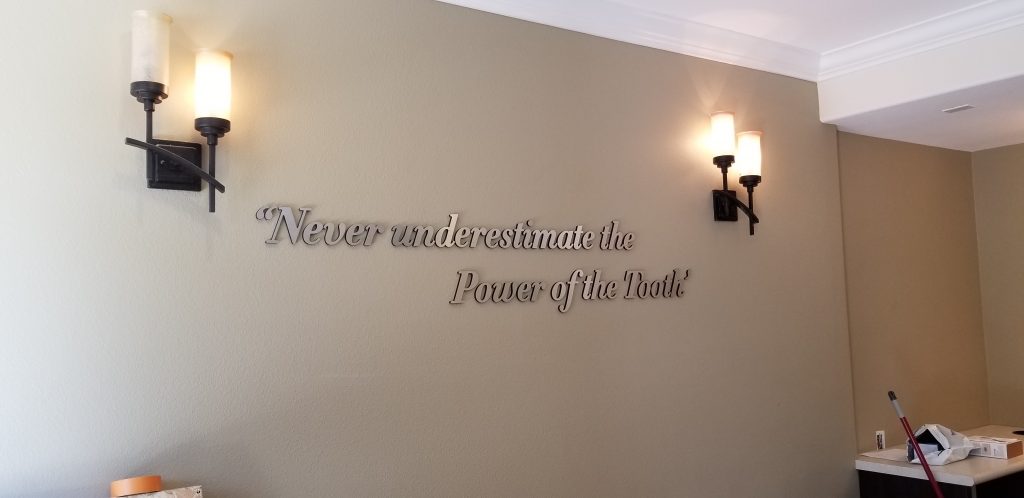 Lighten up patients' mood with some motivational messages. Let them feel the power of positivity during their visit to the dentist. After all, the dental clinic should be where people have their smiles repaired – by getting their oral health tended to. With these inspirational sayings, patients' nerves can be put at ease. Likewise, with these words, the doctor can convey their philosophy regarding their practice. Their approach to treating people and maintaining their pearly whites.
This type of signage isn't just for clinics. After all, whether it's a patient or a customer, warm and fuzzy words that convey good vibes are always welcome be it a health facility or any other establishment. Employees can also find motivation in such displays. And with these signs, which compliment the main lobby sign, people will associate those positive words and feelings with the brand. It meshes with the overall patient or customer experience and makes it all the more memorable. So they will be more likely to return with a smile on their face!
Spruce up your clinic or practice with high quality office signs. Contact Premium Sign Solutions.  Southern California Sign Company based in San Fernando Valley.
About the Client
Glendora Oral Surgery is the practice of Susan J. Lee, DMD, MD, who practices a full scope of oral and maxillofacial surgery.