Inovativ Upgraded Their Business Entrance with a Custom Lobby Sign
Are you looking to make a great first impression with your clients or visitors? Inovativ looked no further than Premium Sign Solutions! They chose us because specialize in creating top-of-the-line lobby signs, reception signs, and indoor signs that will make your office space stand out. Our business signage services are perfect for enhancing your corporate branding and creating a professional atmosphere for your employees and guests. We offer a variety of custom lobby sign, wall signs, logo signs, entrance signs, illuminated lobby signs, LED lobby signs, and lighted reception signs to fit any decor style and budget.
We had the pleasure of creating a stunning lobby sign for Inovativ, a Southern California-based company that is revolutionizing workflow efficiency through innovative design and top-quality products. Inovativ's products are used by professionals in industries ranging from photo and film to broadcast and corporate, and we were thrilled to be able to create a sign that reflected their commitment to excellence. Whether you're a small business just starting out or a large corporation looking to refresh your space, our team of experts can help you design and install the perfect indoor signs to suit your needs. Contact us today to learn more about how we can help enhance your office space and create a lasting impression on your clients and visitors.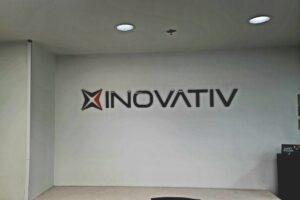 The Lobby Sign for Inovativ
The lobby sign we created for Inovativ is a perfect example of how custom indoor lighted signs can benefit businesses. Made from high-quality materials, this metal lobby sign is sure to impress visitors with its sleek and modern design. Take Inovativ's lobby sign, for example. With an overall size of 10.2 inches high by 72 inches wide, this sign makes a bold statement without overwhelming the space. The sign is made from ½ inch thick acrylic, which is a durable and long-lasting material that can withstand the wear and tear of daily use. The letter height of 7.8 inches and logo dimension of 10.2 inches high by 10.2 inches wide make the sign easy to read and recognize from a distance, helping visitors find their way around the office. And with the use of custom illuminated signs, adds a touch of sophistication to office space, making it feel modern and professional.
Our custom metal signs are also a popular choice among businesses looking for a modern and professional look. Aluminum signs, in particular, are a great choice for outdoor signage, as they are weather-resistant and can withstand harsh weather conditions. Acrylic lobby signs are another great option for indoor signs. They can be custom-pmade to any size or shape and can be backlit to create a stunning illuminated effect. Clear signs can also be made from acrylic, making them a versatile and customizable option for businesses of all types. Our 3D lobby signs and dimensional lobby signs are also popular among businesses looking for unique and eye-catching signs. These custom 3D signs can be made from a variety of materials, including metal, acrylic, and wood, and can be backlit to create a stunning effect.
Custom lobby signs are a great way to enhance your business's branding and create a professional and welcoming atmosphere for your clients and visitors. Contact us today to learn more about how we can help you create the perfect sign for your business. Like Inovativ's Exterior Wall Sign and Monument sign, if you need more than one or have more than one location we can help match all the branding across all signs.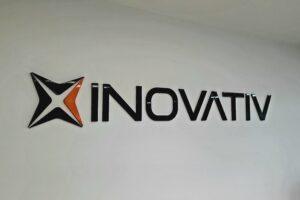 Get Your Entrance Upgraded with a Sign
Are you ready to upgrade your business's entrance with a sign that complements your decor and makes a great first impression on your clients and visitors? Look no further than Premium Sign Solutions! Our team of experts can help you design and install the perfect indoor lighted signs, custom illuminated signs, metal lobby signs, custom metal signs, acrylic lobby signs, custom acrylic signs, clear signs, 3D lobby signs, and dimensional lobby signs to suit your business's needs and budget.
Don't settle for a boring or outdated sign – let us help you create a custom sign that reflects your business's unique identity and enhances your branding. Contact us today to schedule a consultation and take the first step towards upgrading your business's entrance with a stunning new sign!