Offices should look their best to make a great first impression on clients.  Like this investment firm lobby sign for VS Associates. The sign is laser-cut acrylic with brushed metal faces and makes the West Hills office's premises stand out.
Get the Right Looking Investment Firm Lobby Sign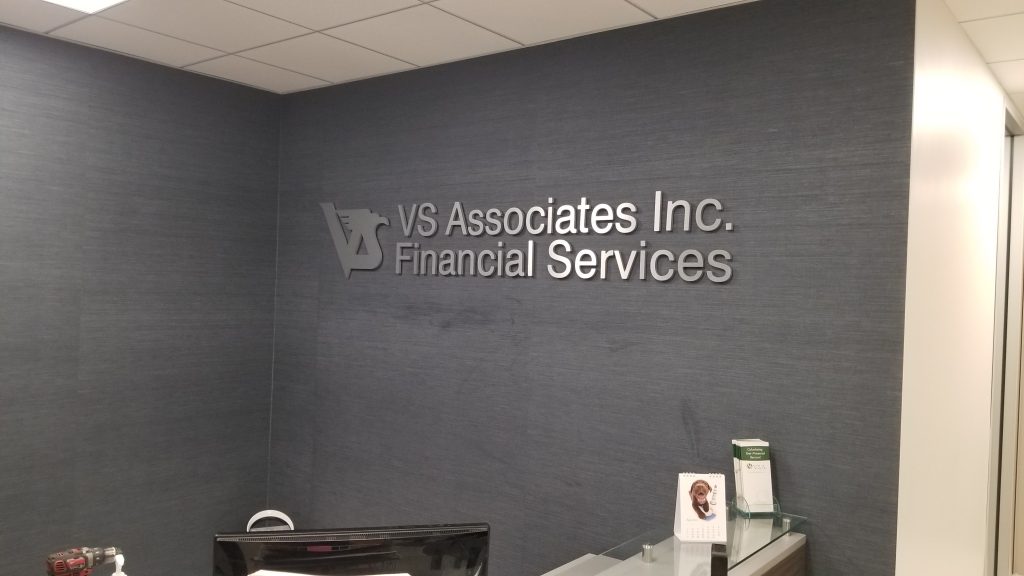 Show clients that your firm has a record of making the right investments and, in turn, get them to invest in you. Do that by showing them you are invested in the appearance of your own establishment. This is more than just "judging a book by its cover." It shows that you care about your facilities. So this sends a message to potential clients, telling them that your organization is meticulous and places attention to the nitty gritty details.
A lobby sign is the centerpiece of the office, particularly the reception area. That's the first place clients will see when they make their entrance, so it is crucial for the signage to make the right kind of impression. Moreover, the sign has to convey what the brand stands for while being aesthetically in sync with the rest of the premises.  And this includes other signs and displays decorating the office. After all, a single lobby sign might get lonely. So perhaps it can be accompanied by others, as part of a sign package to complete the look of the entire office.
Get the right centerpiece for your workplace. Contact Premium Sign Solutions.  Southern California Sign Company based in Tarzana.
About the Client
VS Associates Inc. helps clients build their own roadmap to more successful financial futures with clear, easy to understand explanations of financial products, services and investment options.