Here's our latest lobby sign: A centerpiece composed of laser cut acrylic letters with bronze stainless steel brushed faces. This was part of the entire indoor and outdoor clinic sign package we've been doing for Luna Optometry in Calabasas. As you can see, the signage compliments the interior design. Which it must to have maximum effect in terms of branding.
A Sign Package with a Centerpiece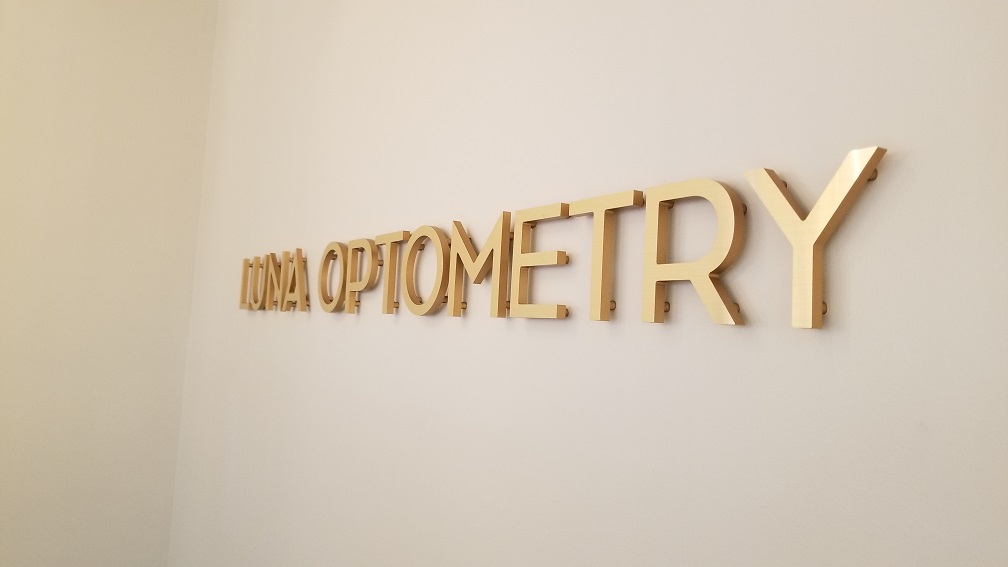 Complete the look of your establishment with a sign package. With these, you'll meet all of your branding and decorative needs. From outdoor signage to indoor ones. Likewise with more portable sign options like custom banners, pop-up banners, and more. Whether you're a clinic like Luna Optometry, an office, spa or even a cafe, you'll need the whole package.
So the whole set will let you draw customers to your business and give them a memorable experience as they avail of your products or services. And with the perfect centerpiece, the lobby sign that projects your brand, they'll definitely leave with a good impression.
All these signs will, of course, be consistent and tailored to your business' branding requirements and the establishment's interior design. The Right Look.
So leverage our considerable expertise in sign making. From quality materials to keen visual design, positioning, and even the paperwork that goes into sign installation – we'll take care of it!
Contact Premium Sign Solutions.  Southern California Sign Company based in Tarzana.
About the Client
Luna Optometry is a dedicated and caring provider of quality vision services to the Calabasas and surrounding communities.