Channel Letter Signs for Megan's Organic Market in Corona
We just installed some new signs for Megan's Organic Market that are sure to grab attention! Our LED channel letter signs, custom illuminated neon signs, wall signs, and outdoor signs all work together to inform and attract customers. At Megan's Organic Market, they're proud to be a 100% women-owned company on a mission to redefine society's relationship with cannabis through responsible stewardship. They want to help improve the health of our community by providing education, awareness, and access to sustainable, high-quality cannabis products.
Their journey started back in 2013 when we saw a lack of verifiable, organic medicine available to medical cannabis patients. They began as a delivery service and quickly gained respect as one of the top Prop. 215 cannabis collectives in California. Since then, they've expanded to include retail storefronts, cultivation operations, and a cannabis product brands division.
They're not just about business at Megan's Organic Market; community involvement is a big part of their culture. From sponsoring workshops and blood drives to hosting a monthly dinner for the 40 Prado Homeless Services Center, they're committed to being responsible stewards of their community.
Their dedication to making cannabis wholesome is evident in everything they do, including their new building signs. Go check them out and see what we're all about!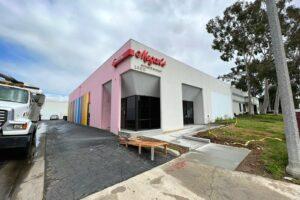 Channel Letter Signs
At Premium Sign Solutions, we had the pleasure of creating branding signage for Megan's Organic Market with our custom commercial signs. The channel letter signs we made for them are a perfect example of how quality signage can help a business stand out.
Our team designed a unique combination of front-lit channel letters and neon signs to create an eye-catching display for the cannabis dispensary. The vintage neon signs are a nod to the history of marijuana business signs, while the modern channel letters give it a contemporary edge.
This type of marijuana dispensary sign or weed store signage is essential for attracting customers and establishing a strong brand identity. Megan's Organic Market can now proudly display their name and parking with channel letter signs and organic market neon signs, all in an overall size of 42.9 inches high by 105.4 inches wide.
With our custom signage solutions, Megan's Organic Market is sure to make a lasting impression on anyone who sees their new sign.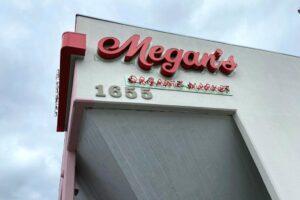 How Effective Signage Benefits Customers, Employees, and Cannabis Business Branding
Having high-quality signage is not only beneficial for a cannabis business's branding, but it also benefits customers and employees. Marijuana retail signs, marijuana store signage, and other forms of marijuana advertising and marijuana marketing can be essential tools for cannabis business promotion.
For customers, effective signage can make it easier to find the business and create a memorable impression. Eye-catching signs can also help establish trust in the brand and create a sense of professionalism and legitimacy. This is especially important in the cannabis industry, where there can be a stigma attached to the product. With clear and attractive signage, customers can feel more comfortable and confident in their purchases.
For employees, signage can also make a big difference. Clear and easy-to-read signs can help with organization and communication, leading to a more efficient and productive work environment. It can also create a sense of pride in the brand and improve employee morale.
Overall, investing in quality signage, such as the ones we created for Megan's Organic Market, can benefit a business in multiple ways. It can help with cannabis business branding, promote the business, attract and retain customers, and create a positive work environment.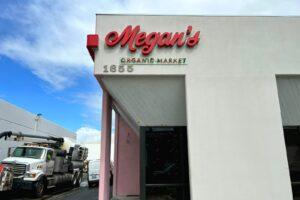 Final Thoughts on Channel Letter Signs combined with Neon Signs
At Premium Sign Solutions, we understand the importance of effective signage in the cannabis industry. Our team of experienced professionals can help you create high-quality marijuana retail signs, store signage, and other forms of cannabis business advertising and marketing.
We specialize in creating custom signs, including channel letter signs, illuminated signs, and LED channel letter signs, that are not only attractive but also functional and durable. With our expertise in design and manufacturing, we can help you create a unique and memorable sign that accurately represents your brand and attracts customers.
Our focus on customer satisfaction means that we work closely with you every step of the way, from concept to installation. We ensure that our signs meet your specific needs and requirements, and we strive to exceed your expectations in every aspect of our service.
If you're looking to boost your cannabis business marketing efforts, consider investing in high-quality signage from Premium Sign Solutions. Contact us today to learn more about how we can help you create effective and eye-catching signage for your business.