We are all looking forward to saying good riddance to 2020 and putting that year behind us. Sign replacements for the New Year is a great way of symbolically affirming this and marching forward into 2021 and all the hope it offers. Businesses, organizations and institutions, public spaces alike can give themselves a fresh look with new signage.
A Fresh Start with Sign Replacements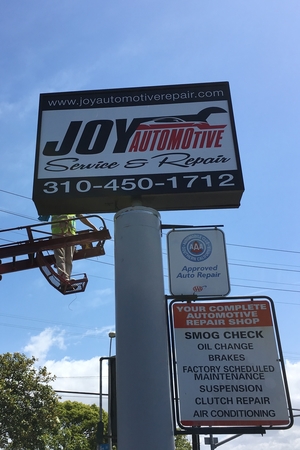 Signs are symbols and so new signage can reinforce the hope and relief that 2021 offers. So why not change up the scenery or revise your branding to reflect this? This kind of visual reminder can bring relief to passersby and potential customers. Moreover, it can also pique their curiosity and encourage them to check out the establishment in question. So that's a double win!
When it comes to new signage, completely replacing a permanent sign can be a commitment. But thankfully, some signs are easier to replace than others. Lightbox signs and pylon signs are designed just for this. The pylon sign or lightbox sign inserts can be swapped out and new ones can be placed in. Moreover, these can display seasonal appropriate messages such as "2020 IS OVER – WOO!"
And as they are illuminated signage, the new messages will be quite visible from afar day in and day out.
Custom banners and pop-up banners are also quick and convenient ways to change a place's appearance. New ones can be made and positioned to decorate a space, add a festive atmosphere and some New Year cheer, or announce sales, specials and promos. Likewise with window graphics. These are easy ways to sport new signage without having to remove and replace more permanent installments (that require power tools and a higher price tag).
Need new signage for 2021? Contact Premium Sign Solutions. Southern California Sign Company based in San Fernando Valley.