Transforming Olympus Real Estate's Branding with Striking Post and Panel Signs
Do you need post and panel signage? Are you a real estate company or property manager feeling overlooked, wishing for fresh eyes on your properties? Do you find yourself struggling to stand out in a sea of competition? The challenge of being seen is real, and it's a struggle many face. 
Key Takeaways 
Stand out from the competition with real estate signs.

Make your properties impossible to miss with larger-than-life signs.

Attract new clients with eye-catching and stylish signs.

Create custom signs that perfectly represent your brand.

Get a free quote from Premium Sign Solutions today!
But fret not – there's a solution that's ready to shine a spotlight on your properties. Enter Premium Sign Solutions – your partner in overcoming these challenges and creating an impact that lasts.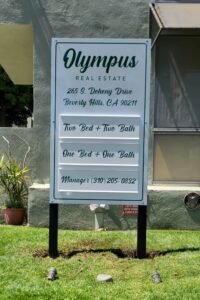 Post and Panel Collaboration with Olympus Real Estate
Imagine collaborating with a signage maker that truly understands your vision and goals. Olympus Real Estate, a pioneer in the multifamily investment and property management sector, partnered with Premium Sign Solutions to transform their real estate branding strategy. Based in Fort Worth, Texas, Olympus spans across multiple states, leaving a mark of luxury and excellence. Together, we embarked on a journey to bring their story to life through striking signage.
Master the Market with Premium Post and Panel Signs
Crafting a Tale of Style and Identity with Post and Panel 
At Premium Sign Solutions, we believe that every client's story is unique. Our collaboration with Olympus began by delving into their philosophy and values. With an impressive reach across states like California, Arizona, Florida, and more, Olympus needed signage that spoke their language. Our design process involved marrying their distinct style with their narrative – the "why" behind their endeavors.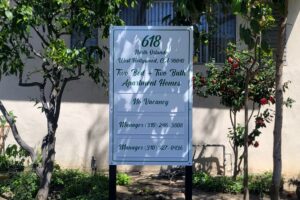 Designing the Post and Panel Signage
A pivotal part of our collaboration was designing the post and panel signs that would grace West Hollywood, Valley Village, and Beverly Hills. Each sign, standing 5 feet high and 3 feet wide, is a canvas of visual allure. Constructed with lusterboard and boasting three tracks, these single-sided signs are designed to captivate and inform.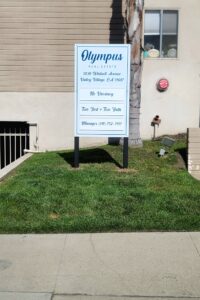 The Power of Property Signs
Let's talk about the magic of property signs. In a bustling real estate landscape, these signs are your permanent advertising companions. Their larger-than-life presence demands attention, making your properties impossible to miss. Whether nestled against the vibrant backdrop of West Hollywood or the serene streets of Beverly Hills, these signs ensure that your message reaches far and wide.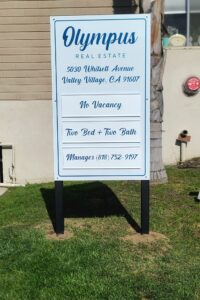 Answering the Why and How:
Now, let's address some common queries financial service businesses may have about real estate signs:
Why choose post and panel signs? 
These signs offer unmatched visual exposure, making your properties stand out in crowded areas.
How does size matter? 
The 5×3 dimensions strike the perfect balance between being noticeable without being intrusive.
What's the secret of lusterboard? 
Lusterboard material adds a touch of elegance while being sturdy and weather-resistant.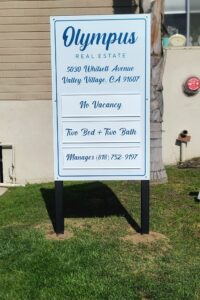 Final Thoughts
In the dynamic world of real estate, visibility is the key to success. Premium Sign Solutions understands this and brings your brand to life with precision and creativity. We're not just a signage company; we're your partner in showcasing the essence of your properties. From design and fabrication to installation and maintenance, we handle it all, so you can focus on what you do best.
Ready to make a statement in the real estate landscape? Let Premium Sign Solutions be your guiding light. Elevate your properties with post and panel signs that exude professionalism and captivate the imagination. Contact us today to embark on a journey of transforming properties into landmarks.