Transforming LA Financial's Pasadena Branch with Premium Window Graphics
Do you need window graphics for your business? Are you a Financial Services Provider or loan center feeling underseen, hoping to catch the eyes of new potential clients? Do you wish to make your mark and stand out in a crowded marketplace? Imagine having the power to captivate passersby with a glance, drawing them in to discover the exceptional services you offer. 
Key Takeaway Points 
Stand Out with Window Graphics

: Transform your storefront into a captivating brand beacon with Premium Sign Solutions.
Collaborative Design Excellence

: Craft compelling signage that resonates with your brand's essence and values.
Captivate Passersby

: Harness the power of window wraps to engage, intrigue, and draw potential clients.
Visual Impact, Lasting Impressions

: Elevate your business with impactful window vinyl that tell your story effectively.
At Premium Sign Solutions, your trusted signage provider in Southern California, we understand the challenges you face in gaining visibility and recognition. Our window graphics, carefully designed and expertly executed, have the potential to transform your storefront into an engaging canvas, making it a beacon that speaks volumes about your brand and its offerings.
Making Your Financial Services Center Shine with Window Graphics 
Let's dive into the remarkable journey we embarked on with LA Financial Credit Union's Pasadena branch. We collaborated closely, understanding their unique style and the compelling story behind their mission. By aligning their values with our expertise as a Los Angeles signage company, we were able to craft signage that not only spoke to their audience but also showcased the heart behind what they do. As signage makers in Southern California, our commitment to excellence drives us to create business signs and commercial signage that resonate with your brand's essence and values.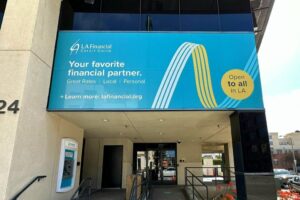 Collaborating with LA Financial Credit Union: A Story of Style and Purpose
Our partnership with LA Financial Credit Union was an inspiring journey of collaboration. We delved deep into their vision and purpose, allowing us to create a design that resonated with their audience. By blending elements of their style and purpose, we were able to produce signage that was more than just aesthetically pleasing – it was a visual representation of their brand's essence.
Designing Impactful Window Graphics: Size and Details Matter
The heart of the transformation lay in the design of their window graphics. The dimensions – first indow measuring 94 inches high by 231.5 inches wide, and second window measuring 94 inches high by 312 inches wide – provided a canvas for creativity. Using high-quality 70/30 perforated adhesive materials, we ensured that the graphics maintained clarity while allowing sunlight to filter through. This combination of design and materials created an impactful visual that captured attention from afar and up close. These custom window wraps were meticulously designed to enhance the branding signage of LA Financial Credit Union.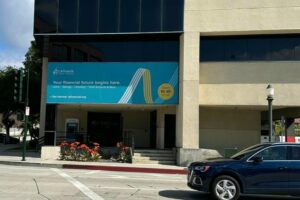 Captivate and Engage: The Benefits of Window Graphics for Storefront
The benefits of our window graphics extend far beyond mere aesthetics. They offer a powerful tool for storefront visual exposure, transforming your space into a compelling advertisement. The graphics tell a story, intrigue passersby, and invite them to step inside, making your business impossible to ignore. The visual impact of our graphics fosters a sense of curiosity and trust, setting the stage for meaningful interactions with potential clients. Our marketing signage solutions bring your business signs to life, making them not just signs, but storytellers.
Addressing FAQs: Window Graphics for Financial Service Businesses
As a financial service business, you may have questions about how window graphics can benefit you. Let's address some of the most common queries:
Will the graphics obstruct visibility from inside?
No, our window graphics are designed to allow ample light and visibility from the inside while showcasing your message to those outside.
How long will the graphics last? 
Our signage is crafted using durable materials that withstand outdoor conditions, ensuring longevity and value for your investment.
Can I customize the design to match my branding? 
Absolutely, our design team works closely with you to create graphics that align with your brand's identity and message.
Is installation complicated? 
Our expert team handles the installation process seamlessly, minimizing disruption to your business operations.
Elevate Your Brand with Window Graphics: Final Thoughts for Taking Action
In a nutshell, our collaboration with LA Financial Credit Union's Pasadena branch showcases the transformative power of window graphics. These visuals, carefully designed and expertly executed, have the potential to redefine your storefront's presence and captivate your target audience. At Premium Sign Solutions, we specialize in crafting window graphics that tell stories and drive results. Elevate your financial service center's impact with our custom-designed signage – your brand's story deserves to be seen, recognized, and remembered.
Are you ready to make your business impossible to ignore? Contact Premium Sign Solutions today and let us help you transform your storefront into an irresistible visual story through our window graphics.