Captivating Lobby Sign for Aerospace Innovators: Parker Meggitt's Success Story
Need a lobby sign? Are you an aerospace company or engineer, feeling like your brilliance goes unnoticed? Imagine if your achievements could be seen by new eyes, bringing the recognition you deserve. 
Key Takeaway Points
Make Your Mark

: Reception signs showcase aerospace prowess right at the entrance.
Collaborate for Excellence

: Crafted with the client's story, our signs reflect your uniqueness.
Size Matters

: A grand 72-inch wide sign commands attention and respect.
Brand Amplification

: Elevate brand exposure and impact with a captivating entrance sign.
Lasting Impression

: Invest in a lobby sign that's a symbol of innovation and dedication.
At Premium Sign Solutions in Southern California, we understand the challenges of being noticed in a competitive world. But fear not, because we have the solution that can turn the spotlight onto you.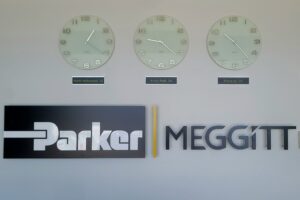 Lobby Sign Collaboration with the Parker Meggit 
Enter Parker Meggitt, a pioneering force in aerospace, defense, and energy markets. We joined hands with Parker Meggit, working closely to understand their style, story, and mission. Our marketing collaborative approach allowed us to create signage that not only matches their essence but also communicates their legacy to anyone who walks through their doors.
Designing the Perfect Lobby Sign
The heart of this project lies in the signage design of their lobby sign. Measuring 12.9 inches high by 72 inches wide, it exudes elegance and innovation. Signage fabrication with precision, the ½ inch flat cut out letters/logo and ¼ inch thick acrylic letters stand out, with the "P" and "M" letters at heights of 6.9 and 6 inches respectively. This lobby sign isn't just an entrance marker; it's a symbol of excellence in signage for commercial properties.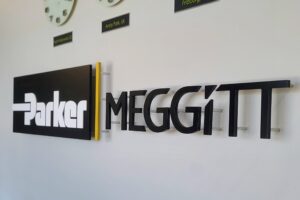 Benefits for Aerospace Businesses
Imagine the impact a captivating lobby sign can have on your aerospace business. It's not just a sign; it's an invitation. With Premium Sign Solutions, your brand's visual exposure skyrockets with branding signage. As aerospace experts, you deserve a reception sign that reflects your dedication to innovation. It's the first step to a lasting impression with an indoor sign.
Addressing FAQs 
Concerned about the nitty-gritty of lobby signs for aerospace businesses? Allow us to address your queries. 
Will the lobby sign match my company's style? 
We will work with you to ensure that the sign matches your branding and overall aesthetic. 
Will the installation be a hassle? 
No, our experts will handle the installation for you seamlessly.
What about maintenance? 
We can provide regular maintenance to keep your sign looking its best.
What about the durability? 
Our top-notch materials ensure that your sign will last for many years. 
How does the lobby sign impact brand perception?
A striking lobby sign sets the tone for innovation and professionalism, making a positive impression on visitors.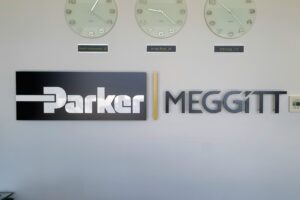 Final Thoughts on  Lobby Sign
In the world of aerospace, standing out is non-negotiable. Parker Meggitt's lobby sign isn't just a sign; it's a statement. It's time to let your achievements shine, to inspire awe in every visitor, and to fuel conversations. Join hands with Premium Sign Solutions to transform your space and your brand. Elevate your identity, just like Parker Meggit did.
With a combination of precision, innovation, and collaborative spirit, Premium Sign Solutions delivers more than signs. We deliver impactful experiences that elevate your brand. Let's craft your success story together. Contact us today.