Valero Stockton's Lobby Sign 
Valero Law Group's Stockton branch now has a lobby sign, thanks to Premium Sign Solutions. We worked on a multi-location sign project to ensure a consistent look and feel across all branches. The lobby sign is made of flat-cut metal and features the Valero Law Group logo. It's the perfect reception sign to welcome visitors at the front desk. We're proud to have helped such a well-regarded personal injury law firm with their lawyers office signs. With over 100 years of combined legal experience, the Valero Law Group fights for their clients' financial interests after accidents. They have a history of going up against large insurance companies and are recognized by Super Lawyers and Martindale-Hubbell. If you need help with your personal injury case, the Valero Law Group offers a free consultation to discuss your options.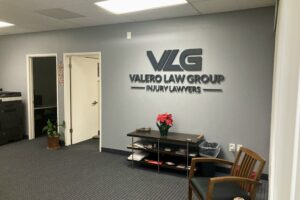 Benefits of Lobby Signs for Los Angeles Businesses: A Look at Valero's Multi-Location Flat-Cut Metal Reception Signs
Lobby signs are an essential part of any business, and Valero Law Group in Los Angeles is no exception. The Valero lobby sign is a prime example of how a well-designed and properly placed sign can benefit businesses in California. Let us look at some details of and the benefits of lobby signs and how they relate to businesses like Valero's multi-location sign project.
Valero's lobby sign is made of 1-inch flat-cut metal, it is durable and long-lasting. It's built to withstand the elements and will keep looking great for years to come. The sign is 28.7 inches high by 70 inches wide, making it easily visible. This size is perfect for making a statement and grabbing visitors attention to the firm's brand. The letter height for the sign's text is carefully chosen to ensure optimum readability. The letters for "VALERO" are 5.1 inches high, while "INJURY" is 3.6 inches high. This size ensures that the sign is easy to read and provides clear visibility. The lobby sign also features the firm's logo, which is 14 inches high by 40.3 inches wide. Including the logo in the sign design reinforces the firm's brand and helps create a cohesive look across all locations. Valero's front desk signs are made of flat-cut metal in each of their locations. These signs ensure that visitors can easily locate the reception area and creates a professional and welcoming environment.
The Valero's lobby sign is a multi-location sign project and is an excellent example of how businesses can benefit from well-designed reception signs. Whether it's for a law firm like Valero or any other type of business, lobby signs for offices are an effective way to make a positive first impression on clients and visitors. Entrance signs reinforce a brand, and create a professional and welcoming environment.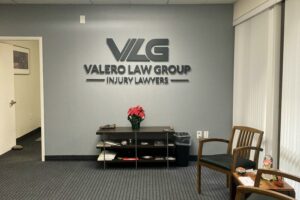 The Importance of Lobby Signs for Businesses
Your lobby sign is more than just a decoration, it should represent your brand's personality and values. A reception sign is the first thing your clients or customers see, so it's important to make a good impression. Let's discuss the importance of reception signs and why they're crucial for your business.
Benefits of Lobby Signs
A lobby sign can help you build brand awareness, create a professional image, and leave a lasting impression. Your entrance sign should reflect your brand's colors, fonts, and overall style to showcase your identity and values. It can bring the decor theme together as a finishing touch.
Types of Lobby Signs
Lobby signs come in various types, including acrylic signs, metal signs, backlit signs, and 3D signs. Acrylic signs are popular for their durability and offer a modern look, while metal signs impart an industrial or modern look. Backlit signs create a dramatic effect, while 3D signs add depth and dimension.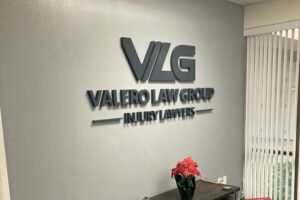 Final Thoughts on Lobby Sign 
At Premium Sign Solutions, we work with you to create a custom design that reflects your brand's personality and values. We offer a variety of materials for your lobby sign, including acrylic, metal, wood, and more. The time it takes to make a lobby sign depends on the complexity of the design and materials used, and we can provide you with a timeline based on your specific requirements. Contact us today to get your free quote and we can guide you on the best suited options for your needs.