Gentera just got some slick window graphics for their Canoga Park establishment. The clinic sign displays pertinent information, like their business hours. It also shows off their striking logo, which resembles something in a sci-fi movie. Moreover, its placement on the office door helps build up to Gentera's truly impressive lobby sign. 
Slick, Space Saving Window Graphics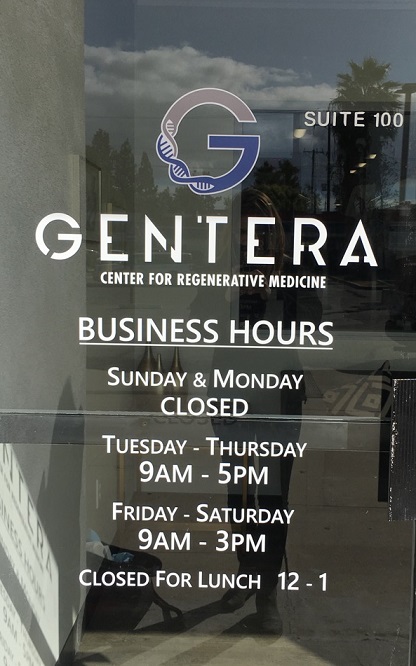 Need a business sign, but don't have enough space in the place you are renting? Want optimized, efficient signage? Fret not, minimalism has its perks. In these cases, window graphics can be real life savers. They make use of surfaces – windows, glass doors – that are highly visible yet often taken for granted. So they can have as much impact as much larger signs, as long as they're installed in optimal locations. As the saying goes, "Location, Location, Location."
Window graphics are also quick to fabricate and easy to install. Interested in this type of sign? Contact our Tarzana-based sign company for inquiries.
About the Client
Gentera Center for Regenerative Medicine boasts an experienced staff of accredited doctors.  They customize their multi-pronged therapeutic approach for each patient. Thus Gentera ensures positive lifestyle changes for patients, making them feel like their best possible selves.