Continuing our exciting series on directories… we've made and installed another custom directory at the West Valley Medical Center. The property manager, Ethan Christopher, LLC.,  wanted matching sets for the building. So we made sure the tenant signage met their specifications and enhanced the establishment's look. 
Property Managers Need Consistent Tenant Directories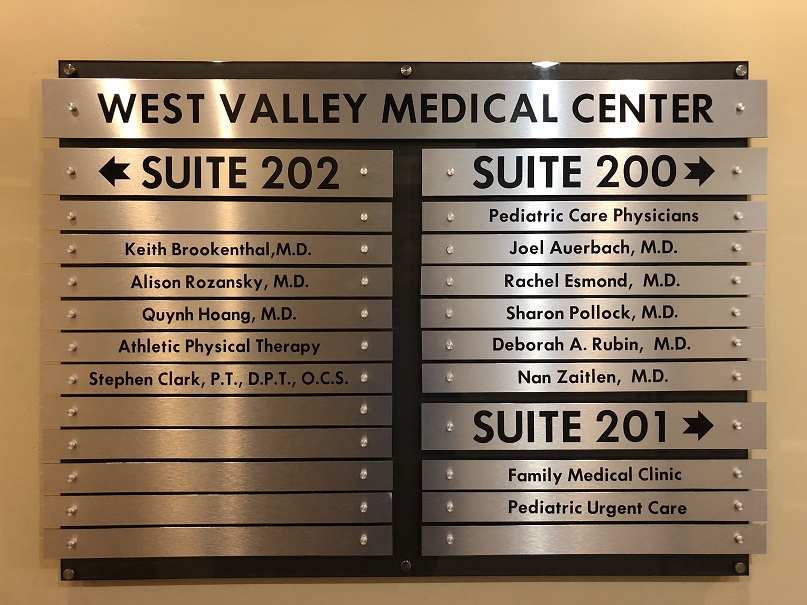 You can't have an establishment's signage go all over the place. There has to be  consistency in appearance, or else it'll be a hot mess. With a standardized aesthetic the proprietor's own branding is reinforced, showing that it's their establishment.
Tenant directories are a big part of that, they have to be visible and functional, identifying the offices within the building. At the same time, they shouldn't stick out like sore thumbs.
On the other hand, the tenants themselves can have their own unique-looking signage in their own spaces. Hence, they can mount the lobby signs of their own choosing in their offices without having a styles clash with their neighbors.
So that's why delineation of style is important, it establishes boundaries and makes sure that there's an aesthetic harmony among the tenants. After all, your custom directory can't play favorites and have one tenant outshine another.
A Custom Directory for All Seasons
Looking for signage that takes all these factors and elements into consideration? Property managers, business owners and tenants alike can contact us for that perfectly balanced sign solution!
About the Client
Ethan Christopher LLC is a full service real estate firm founded in 1999. It manages numerous shopping centers and medical office complexes.
West Valley Medical Center leases to outpatient medical services and many private practices. Their on-site pharmacy makes filling a prescription fast and efficient.