The devil is in the details.  Added some window vinyl at Medical Valley Partners to make sure their customers know they're at the right place. It seems like a minor modification but it can help a lot! We're thorough like that, as we make sure our sign packages have all the bases covered. Now the Sage Healthcare office will be even easier to find.
Check out the rest of the signage we recently made for them here.
Tweak Your Signage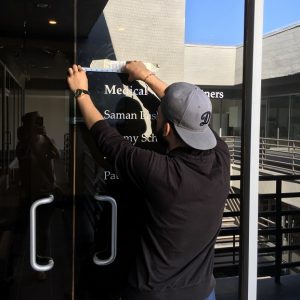 Think your signs could use some additional modifications? More window vinyl? Extra room plaques? It can be new text displaying your room number, advertising a sale or something that completes your establishments look. Contact us and we'll get right on it!
About the Client
MVP is part of the Sage Healthcare Management Group, a California-based, boutique practice management firm dedicated to helping healthcare providers thrive.