Transforming Healthcare Spaces: At Home Nursing Culver City's Window Graphics Journey
Do you need window graphics? Are you a healthcare provider or care center owner seeking to break through the noise and connect with a wider audience? Do you find yourself feeling unnoticed in a crowded market? Imagine the difference it could make if your establishment could stand out, attract new eyes, and convey your unique story effortlessly. 
Key Takeaway Points 
Window graphics amplify your brand, conveying values and mission, setting your business apart in seconds.

Durable materials ensure window graphics maintain vibrant, captivating visuals that resonate with viewers over time.

Collaborate with Premium Sign Solutions to translate your unique narrative into eye-catching visuals that captivate.

Expertly designed and installed window graphics reflect quality, professionalism, and attention to detail, enhancing credibility.

Elevate visibility, tell your story, and attract new audiences through transformative window graphics from Premium Sign Solutions.
Premium Sign Solutions has the answer. In this article, we delve into our collaboration with At Home Nursing Culver City, revealing how our window graphics transformed their space and brought their core beliefs to life.
In today's bustling world, it's easy for businesses to get lost in the shuffle. Health professionals and care centers often find themselves overshadowed, yearning for recognition. The challenge lies in capturing attention and conveying your essence effectively. This is where Premium Sign Solutions, the leading signage maker in Southern California, steps in to bridge the gap.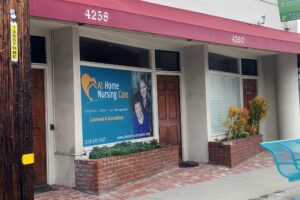 Window Graphics Collaboration and Craftsmanship
At Premium Sign Solutions, we understand that every business has a unique story to tell. Collaborating closely with At Home Nursing Culver City, we harnessed their core beliefs of respect, excellence, equity, and collaboration. Our team meticulously crafted signage that mirrors their values, transforming their space into a powerful reflection of their mission.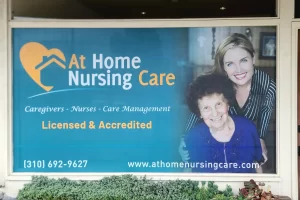 Designing the Window Graphics Sign
The heart of our project was a window graphics sign that truly stole the show. Covering 182.25 inches in height and 197.25 inches in width, each window boasted dimensions of 33.75 inches high by 36.75 inches wide. The materials we chose for this task were none other than the trusted 3M IJ180Cv3 vinyl and 3M gloss laminate.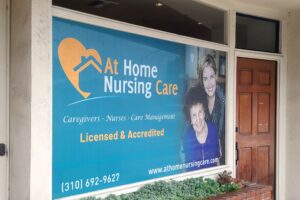 Answering FAQs on Window Graphics Signage 
Now, let's address some common questions health professionals and care centers might have about window graphics. 
How long will these graphics last? 
With proper care, they can retain their vibrancy for years, ensuring a lasting impression on your audience. High quality signage materials make all the difference. 
What about installation? 
Our expert team handles every step of the installation process, ensuring a seamless and professional look. Business signs, with professional signage installation. 
Can these graphics be customized to our brand? 
Absolutely! Premium Sign Solutions specializes in crafting custom-designed signs that reflect your unique branding and style.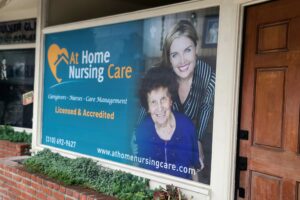 Final Thoughts on Wimdow Graphics 
In a world where visibility is key, window graphics have emerged as a powerful tool to captivate audiences and elevate businesses to new heights. The success story of At Home Nursing Culver City and our collaboration showcases the potential of these vibrant and impactful marketing assets. Let Premium Sign Solutions transform your space, amplify your message, and help you stand out in a sea of competition. Your story deserves to be seen and celebrated.
Bringing Values to Life: Window graphics signage that mirrors and celebrates core beliefs.