Enhancing Business Appeal with Window Graphics: A Success Story of Fazio Cleaners 
Are you a dry cleaner or seamstress operating in the heart of Southern California? Do you find yourself fading into the background, longing for new customers to discover your exceptional services? In a bustling market like Los Angeles, standing out can be a challenge, but it's a challenge we're here to help you conquer. Imagine capturing the attention of passersby and drawing them into your world of quality and expertise. 
Key Takeaway Points 
Transforming Visibility

: Premium Sign Solutions specializes in captivating window graphics, turning unnoticed storefronts into unforgettable brand statements.
Crafted for Impact

: Meticulous design processes ensure seamless, captivating window graphics that embody your brand's essence.
Amplifying Presence

: Fazio Cleaners partnered with Premium Sign Solutions, capturing commitment to excellence through engaging graphics.
Curated Visual Experiences

: Dive into the details — from grand sizes to engaging elements, our designs tell compelling narratives.
Lasting Impressions

: Window graphics engage, allure, and elevate, creating a vibrant bridge between your brand and customers.
At Premium Sign Solutions, we specialize in creating captivating window graphics that transform your business visibility from unnoticed to unforgettable.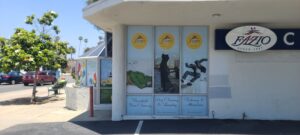 Collaborating with the Client on Window Graphics 
In the vibrant neighborhoods of Beverly Hills and Brentwood, Fazio Cleaners teamed up with Premium Sign Solutions to amplify their presence. We delved into the heart of their story and vision, understanding their commitment to excellence. This partnership allowed us to craft signage that goes beyond aesthetics – it captures the essence of their values and creates a connection with potential.
Design and Signage Details
When it comes to transforming your business visibility, the devil is in the details – and we take every detail seriously. Let's take a closer look at the signage specifications that turned Fazio Cleaners' storefronts into captivating stories:
Brentwood Location:
Overall size

: Ranging from the grand 65.5" x 83.5" (perf1) to the versatile 82.5" x 52" (perf2) and the attention-commanding 82.5" x 284" (perf3), our designs embraced variety.

Window Wraps

: The symphony continued with window wraps like 83.5" x 30" x qty 2 and 83.5" x 70.5" (perf4), creating a dynamic visual experience.

Statement Piece

: The showstopper was the impressive 99" x 123.75" (perf5), turning heads and inviting curiosity.

Materials

: We employed the power of 70/30 Perforated Adhesive materials. These aren't just graphics; they're an artful blend of visuals and functionality.
Beverly Hills Location:
Overall size

Our canvas ranged from the chic 46 inches high by 44 inches wide x qty 2 (perf 6 and 7) to the intriguing 46 inches by 46 inches / 25 inches high by 46 inches wide (perf 6 and 7), catering to the diverse preferences of Beverly Hills.

Engaging Elements

The story continued with graphics like 83.5 inches high by 33 inches wide (perf 8), 83.5 inches high by 32.5 inches wide (perf 9), and 83.5 inches high by 33 inches wide (perf 10), each telling a different facet of Fazio Cleaners' brand.

Subtle Elegance

Even the more understated dimensions like 25.25 inches high by 33 inches wide (perf 11), 25.25 inches high by 32.5 inches wide (perf 12), and 25.25 inches high by 33 inches wide (perf 13) held their own in weaving a compelling narrative.

Materials

The magic lies in the choice of materials – our expert use of 70/30 Perforated Adhesive brought the design to life, creating a dynamic interplay of visuals and transparency.
When we say every detail matters, we mean it. Premium Sign Solutions doesn't just create window graphics; we curate immersive visual experiences that speak volumes about your business and values. It's about more than just aesthetics – it's about captivating your audience and drawing them into your world.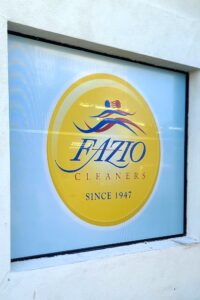 Benefits of Window Graphics
Window graphics are more than just visuals – they're powerful ambassadors for your brand. Fazio Cleaners' custom window wraps didn't just adorn their storefronts; they engaged passersby with vibrant colors and designs. The allure of these graphics was irresistible, drawing curious customers inside to explore the exceptional services waiting within. It's a proven way to elevate your business appeal and create lasting impressions.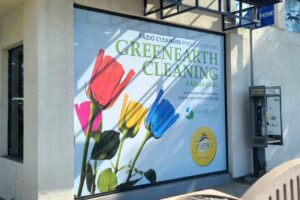 Frequently Asked Questions
As a dry cleaner or seamstress considering window graphics, you might have questions. 
How does installation work? 
Our professional team will ensure the design, fabrication, and installation is done quickly and neatly. 
Will the graphics maintain their brilliance over time? 
Our durable materials ensure longevity, maintaining the allure of your graphics while showcasing your branding with finesse.
Rest assured, Premium Sign Solutions, the top signage maker in Southern California, handles installation with expertise.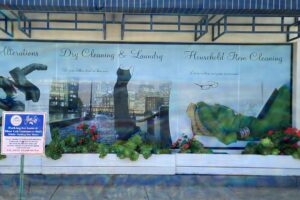 Final Thoughts on Window Graphics
The collaboration between Fazio Cleaners and Premium Sign Solutions yielded transformative results. Their storefronts evolved into captivating stories, catching the eyes of passersby and turning them into loyal customers. Now, it's your turn to step into the spotlight. Ready to showcase your business with stunning window graphics? Contact Premium Sign Solutions today and experience the undeniable impact of enhanced visibility.