Directory Signs and Unit Signs to Elevate Your Property's Image – The Park Granada Success Story
Do you need a directory sign or unit signs for your building? Are you a property manager looking to enhance your property's image or hoping to attract new eyes to your space? Do you want to tell a compelling story through your signage? If so, you're in the right place. 
Key Takeaways 
Elevate Property Image: Directory and unit signs enhance property appeal, guiding visitors seamlessly while reflecting professionalism.
Storytelling Through Signage: Craft signs that resonate with your property's narrative, creating a lasting impression.
Visual Exposure Matters: Clear, elegant signage sets the tone, impressing potential clients and partners.
Premium Sign Solutions: Trust the expertise of your Los Angeles signage company for a visual transformation.
In this blog post, we'll dive into the remarkable collaboration between Park Granada in Calabasas, California, and Premium Sign Solutions. Discover how directory signs and unit signs played a pivotal role in transforming this 20-acre campus into a thriving hub. Let's explore the art of signage and how it can elevate your property's visual exposure.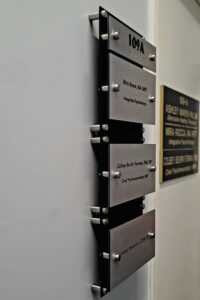 Collaborating with Park Granada on Their Directory Sign and Unit Signs 
At Premium Sign Solutions, we believe that signage should reflect not only a brand but also the essence of the place it represents. When Park Granada approached us, we understood that their location between Woodland Hills and Malibu demanded something special. It needed to capture the creativity and exclusivity of one of Los Angeles's most upscale neighborhoods.
Our collaboration began with a deep dive into Park Granada's story and style. We listened to why they do what they do, and we made it our mission to craft signs that resonated with their narrative. We didn't just want to make signs; we wanted to tell a story through them.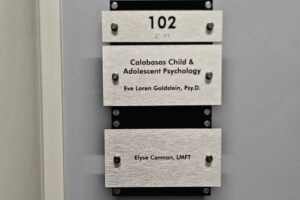 Designing The Signage
The heart of Park Granada's transformation lay in the artistry of our signage. These unit ysigns weren't merely functional; they were a canvas for storytelling. We carefully selected materials that embodied sophistication: 1/8-inch thick matte black plex backer for durability, and brushed silver sibond with a horizontal grain for a touch of elegance. Custom holes added a unique flair.
Every detail mattered. The directory signs needed to harmonize with the property's upscale ambiance, from the majestic open spaces to the designer business hub. Our aim was clear: create signs that weren't just informative but also pieces of art that mirrored the creativity and exclusivity of Calabasas.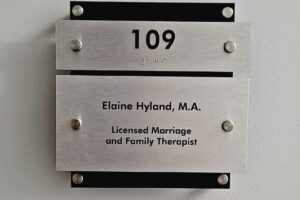 The Benefits of a Directory Sign and Unit Signs
But why invest in directory and unit signs for your real estate property? The answer lies in visual exposure. Directory signs guide visitors efficiently, ensuring they find their way around your property without hassle. Unit signs not only provide room numbers but also convey a sense of professionalism and attention to detail.
Imagine a potential client walking through your property, feeling confident and impressed by the clear signage. That impression alone can set the tone for a successful partnership.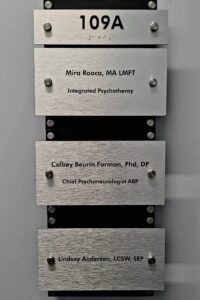 Frequently Asked Questions on Directory Sign and Unit Signs 
Property managers often have questions about directory and unit signs:
How do directory signs benefit my property?
Directory signs streamline navigation, making your property more accessible and appealing.
Can unit signs be customized?
Absolutely. Unit signs can be tailored to match your property's style and branding.
How do I maintain these signs?
Our signage materials are durable and low-maintenance, ensuring longevity and lasting appeal.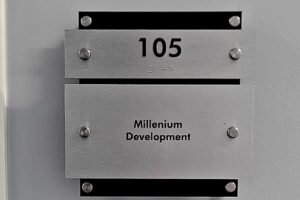 Final Thoughts on a Directory Sign
In a nutshell, directory signs and unit signs are more than just signposts; they are a reflection of your property's character. Park Granada's success story illustrates how Premium Sign Solutions can transform your property's image through expertly crafted signage.
Ready to elevate your property's visual appeal? Contact Premium Sign Solutions, your trusted Los Angeles signage company, and let's start telling your property's unique story through the art of signage.
Get Your Free Directory Sign Quote Now!