Window Graphics to Enhance Your Business Visibility: A Success Story
Do you need window graphics? Are you an entertainment company or event manager feeling like your business is flying under the radar? Do you yearn for more visibility, a way to captivate new audiences, and stand out in the crowded marketplace? If these questions resonate with you, you're not alone. 
Key Takeaways
Transform your business with captivating window graphics for your store front.
Window graphics aren't just signs; they're immersive narratives that tell your brand's story.
Benefit from increased visual exposure and make your business a Century City landmark.
Partner with Premium Sign Solutions for custom window graphics that leave a lasting impression.
Many businesses face the challenge of making themselves seen and heard. But fear not, as we introduce you to Premium Sign Solutions, your go-to solution provider for elevating your business's presence.
The Escape Game: Crafting Adventures
Our journey begins with The Escape Game, a company that's all about crafting immersive adventures. In their games, you and your team become heroes on a thrilling mission, solving puzzles and cracking codes. It's more than just escaping; it's about embarking on unforgettable adventures. These games are meticulously crafted at their "Adventure Factory" in Nashville, Tennessee, where a team of creative minds brings dreams to life.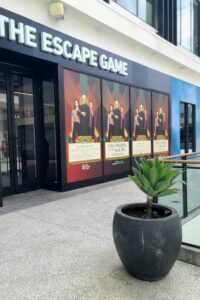 Collaboration and Crafting the Perfect Window Graphics Signage
Now, let's delve into how Premium Sign Solutions collaborated with The Escape Game, one of our ongoing clients to create signage that truly resonates with their style and story. Crafting signage is more than just putting up a sign; it's about weaving a narrative that aligns with the essence of the business.
As signage makers based in Southern California, Premium Sign Solutions understands the significance of storytelling in signage. They sat down with The Escape Game team, learning about their mission and vision. This collaboration helped craft signage that doesn't just display information but immerses visitors in the adventure even before they step inside.
And speaking of immersion, they took it a step further by wrapping their windows to advertise for an upcoming season of the TV show "Only Murderers in the Building" on Hulu. This ingenious move not only added a contemporary touch to their venue but also created a buzz among passersby.
The Art of Signage Design and Window Graphics
Speaking of signage, let's dive into the design details. The window graphics created for The Escape Game at Century City were nothing short of extraordinary. These graphics covered an impressive area, measuring approximately 132 inches in height and stretching across 70 feet in width. The materials used were adhesive vinyl, which ensured a high-quality, long-lasting display.
The graphics were carefully designed to mimic the thrill of an adventure. They incorporated elements from The Escape Game's narratives, drawing visitors into a world of mystery and excitement. The use of large format graphics window decals transformed the venue's exterior into an enticing visual spectacle.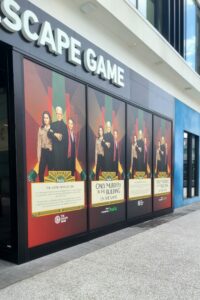 Benefits of Window Graphics for Business Exposure
Now, let's talk about why window graphics are game-changer for businesses, especially those in the entertainment industry. In a bustling city like Century City, visual exposure is everything. Window graphics turn ordinary storefronts into eye-catching landmarks.
For real estate, these graphics provide a unique selling point. Potential customers are drawn to venues that stand out from the crowd. Window graphics make a strong first impression, creating a sense of curiosity and anticipation.
Answering Your FAQs on Window Graphics
Entertainment service businesses often have questions about signage. Let's address some common queries:
What are window wraps made of?
Window wraps, like the ones used for The Escape Game, are typically made of adhesive vinyl. This material is durable and can withstand various weather conditions.
Are window wraps easy to install?
Yes, when done by professionals like Premium Sign Solutions, window wrap installation is a hassle-free process.
Can I customize my window graphics?
Absolutely! Custom window wraps allow you to tailor the design to your brand's identity.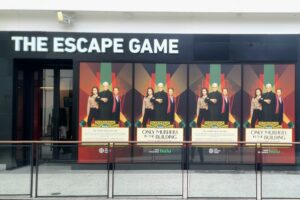 Final Thoughts on Window Graphics 
In conclusion, window graphics can be a powerful tool for businesses looking to increase their visibility and create an unforgettable impression. The collaboration between Premium Sign Solutions and The Escape Game exemplifies how strategic signage can transform a business's exterior.
If you're ready to take your business to the next level and elevate your brand's visibility, it's time to partner with Premium Sign Solutions. Discover the magic of window graphics and let your business shine in Century City and beyond.
Contact Premium Sign Solutions today and embark on your journey towards enhanced visibility and success. Your adventure awaits, and it begins with the right signage.