Making this restaurant pylon sign for Mori Sushi is been a great privilege. Chef Masanori "Maru" Nagano's Michelin-rated sushi restaurant turned to us for a new street pole sign. And we delivered the goods! So our new restaurant sign will undoubtedly draw more customers to the Los Angeles establishment, where they'll savor its exquisite cuisine.
Restaurant Signs Guide Customers to Unforgettable Gastronomic Delights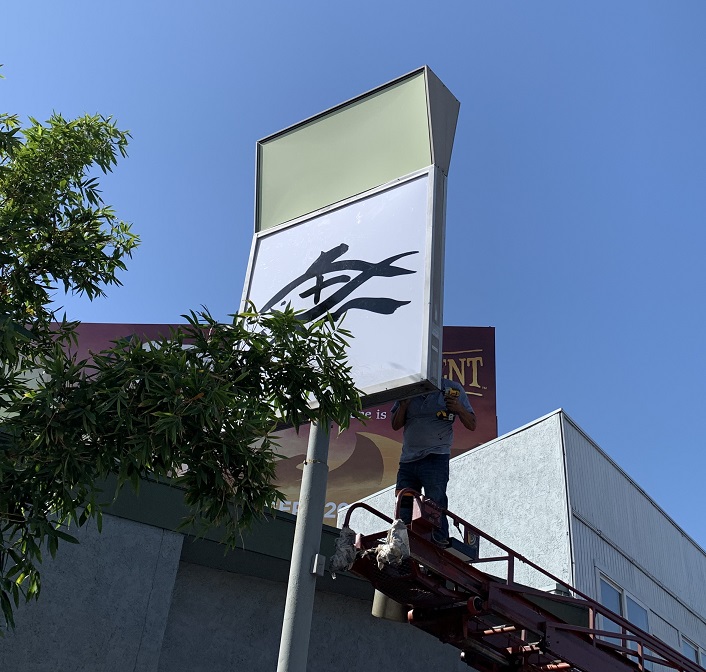 This pylon sign is one example of high quality restaurant signage. With these, both seasoned foodies and ordinary folks with an appetite will know where they can get some good eats. After all, there's no experience more frustrating than scouring the streets for a place serving tasty delicacies. It's the same for tourists and traveling foodies looking for a locale's finest offerings, and couples looking for restaurants and cafes to have a date in.
So save customers the trouble
Win over some new patrons, and show off your brand. Restaurant signs are a definite must for Michelin Star-rated establishments and fastfood joints alike.
Real recognizes real
So an artist like Chef who takes meticulous care in preparing his exquisite dishes will appreciate the quality put into successful signage. As would any restauranteur worth his or her salt. Likewise, customers will appreciate good signage and know that it conveys the care with which an establishment puts into its products.
Contact
 Premium Sign Solutions.  Southern California Sign Company based in San Fernando Valley.
About the Client
Mori Sushi
is a Michelin Star-awarded sushi restaurant that serves authentic Japanese cuisine in Los Angeles. Their dishes use real Japanese fish and ingredients, natural wild-caught. Likewise, their organic produce comes from LA's farmer's market.