Enhancing Visibility and Impact: Monument Sign Success Story
In a bustling city like Los Angeles, finding your way can be challenging without a monument sign, especially when searching for personalized services, therapy centers, or even feeling a bit lost in the shuffle. Have you ever longed to be noticed by new eyes, your unique mission gaining attention in the right way? If these thoughts resonate with you, you're not alone. At times, the right path can seem elusive, leaving many feeling unseen due to their invisibility.
Key Takeaway Points 
Monument sign: A narrative in design, capturing SVS's journey, brilliance and purposeful materials.

Crafted Resilience: acrylic, custom-painted, echoing SVS's identity, and standing tall.

Double-Sided Impact: Bilateral storytelling, "SVS" and "Social Vocational Services" letters, commanding attention.

Symbol of Commitment: More than just a sign – an emblem of strength, unity, and community inclusion.
Imagine the power of a solution that not only captures attention but also becomes a beacon of purpose and identity. Enter Premium Sign Solutions – your partner in turning these challenges into triumphs. We specialize in crafting monument signs that go beyond being mere markers; they embody stories and visions, beckoning a world to discover the essence of your space.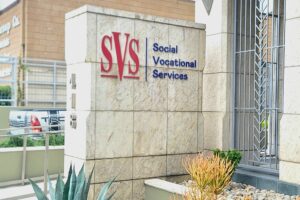 Collaboration: A Tapestry of Style and Story
Our journey with Social Vocational Services (SVS) was an inspiring one. Founded by Ed Dawson in 1977, SVS aimed to revolutionize the approach to developmental disabilities services. Just as Ed envisioned services without walls, we saw the opportunity to create business signage without limits.
We believe in co-creation, where every client is an artist and every outdoor sign, a masterpiece. Our collaboration with SVS was an intricate dance of design elements and heartfelt stories. Just as they nurtured community inclusion, we nurtured their brand identity into the monument sign.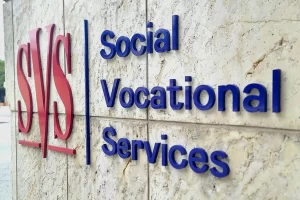 Monument Sign Design that Speaks Volumes
Crafting the monument sign for SVS was a journey in itself. Standing tall with LED brilliance, it mirrored their spirit day and night. The design harmonized their journey, resilient materials, and commanding size – 24.8 inches high by x 60 inches wide. Crafted from custom-painted ½-inch acrylic, the sign spoke of SVS's identity. With two signs, each side told their story. "SVS" at 18.5 inches tall and 24.8 inches tall, and "Social Vocational Services" at 4.3 inches tall and 2.9 inches tall ensured clarity. Beyond words, this sign embodied their dedication, inviting all to be part of their exceptional narrative.
Monument Sign Benefits Beyond Measure
A monument sign isn't just a piece of outdoor art; it's a statement that resonates. It welcomes, informs, and leaves a lasting impression. For SVS, their sign did more than guide; it invited curiosity and engagement. The vibrant colors mirrored their vitality, while the size and placement showcased their significance. In a world where appearances matter, the entrance sign stood as a steadfast representative of their commitment.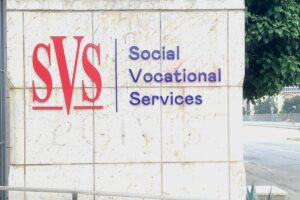 Answers to Your Monument Sign Questions
You might be curious about how a monument sign could benefit your clinic. Here are some frequently asked questions we encounter:
What's the purpose of a monument sign?
A monument sign enhances visibility, reinforces branding, and guides visitors effortlessly.
Can you customize the design?
Absolutely! We collaborate closely to reflect your brand's essence in every detail.
What materials are used?
We use high-quality materials that ensure durability and a polished appearance.
Is LED lighting energy-efficient?
Yes, our LED-lit signs are not only eye-catching but also eco-friendly.
How long does installation take?
We prioritize efficiency, ensuring timely installation without compromising quality.
Contact Premium Sign Solutions 
In conclusion, your space's identity deserves to be celebrated, acknowledged, and cherished. Our partnership with SVS exemplifies the transformative potential of a well-crafted business sign. Just as SVS redefined services, we redefine company signage in Los Angeles – infusing passion and purpose into every detail. Let your space tell its story, and let us illuminate it for the world to see. Elevate your clinic with Premium Sign Solutions – your beacon of professional brilliance.