This instant classic is for Encino-based Hanger Clinic. The custom blade sign compliments the rest of the establishment's signage. Bright and highly visible, it helps catch people's attention.  Its construction involves a digitally printed vinyl on a nu-alum sign panel that's mounted in a custom frame.

A Blade Sign is a Classic and Space-Efficient Design
So you need to save space. Your place can't fit a monument or pylon sign. Your windows already have vinyl on them. What are your other signage options?
Consider the blade sign. It can hang over your entrance, catching customers' eyes without obstructing their path. It has a smaller footprint than larger signage so it is easier to fabricate and install. This also means that it's easier to maintain and update. You can even transfer it if you're changing venues. At the same time, it's still as memorable as any other signage.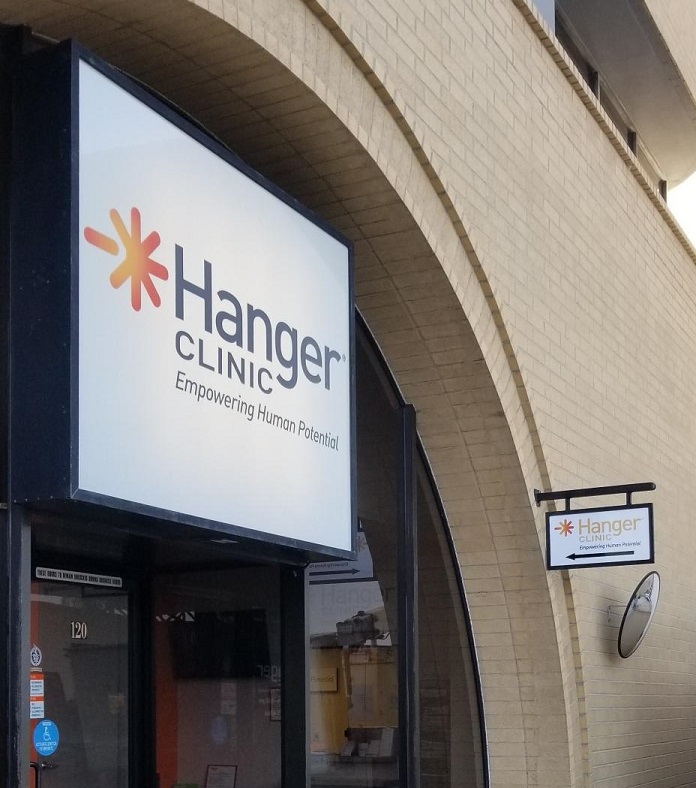 To sum it up, blade signs are classic because of their utility and fair amount of customization options. They are any small business' best friend. Salons, parlors, restaurants and stores all make good use of these as storefront signs.
Need this type of business sign?  Contact our San Fernando-based sign company for inquiries.
About the Client
Hangar Clinic helps provide prosthetic and orthotic innovations to empower patients and improve their quality of life. These solutions include prostheses, braces and support, which help patients regain their self-confidence and potential.