3D Lobby Sign for LA SEO 
Our team had the pleasure of creating a stunning 3D lobby sign for LA SEO to enhance its brand image and make a great impression on visitors. We designed and installed these beautiful wall-mounted signs in their reception area that perfectly matched their branding. Our acrylic lobby signs are built to last for a long time, ensuring they look great for years to come. While our specialty is signage design, LA SEO's expertise lies in online brand building, and their unique approach sets them apart in the competitive world of SEO services.
LA SEO is a California-based agency serving clients targeting local, national, and global customers. Founded by veteran online marketing executive Blake Pollack, a seasoned online marketing executive. Andrew Bernhardt, a passionate SEO pioneer, provides guidance. The company boasts best-in-class technical SEO, content marketing, and in-house outreach teams. They offer personalized SEO expertise to each client. LA SEO's unique solution blends strategy with tactics for a full-service SEO support experience that sets them apart in a crowded industry.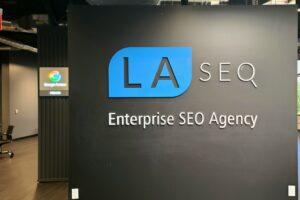 Office lobby sign 
LA SEO's office lobby sign is a prime example of how well-designed signage can elevate the aesthetics and decor of a space. Measuring 39.2 inches high by 72 inches wide, this custom-painted flat-cut acrylic sign makes a bold statement that perfectly complements their branding. As specialists in custom lobby signs, office lobby signs, and reception signs for businesses. We know the importance of impressive indoor signage, and lobby logo signs, and we know the significance of creating signage that not only looks great but also enhances the overall environment. LA SEO's sign is a testament to this philosophy, and we're proud to have played a part in its creation.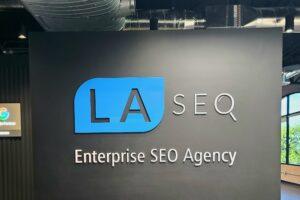 Corporate Lobby Sign 
Corporate lobby signs and business lobby signs are essential for any corporate business looking to make a great first impression. A well-designed sign can instantly enhance the atmosphere of a lobby or reception area, and create a memorable experience for visitors. Signage installation is a quick and easy way to transform the look and feel of a space, while also reinforcing brand messaging through branding signage. Interior design signage is an important element of any interior design project and can tie together the aesthetic of a space. From corporate lobby signs to business lobby signs, signage has the power to elevate the visual appeal of any corporate space and enhance its overall atmosphere.
Maximize Your Business's Branding Potential with Premium Sign Solutions 
Premium Sign Solutions is your go-to partner for creating stunning corporate lobby signs and branding signage that can elevate your business's aesthetic and make a lasting impression on visitors. Our expertise in signage installation and interior design signage ensures that every project we undertake is tailored to meet your unique needs and preferences. Book your free quotation call-out now and let us help you take your branding and marketing efforts to the next level with our high-quality signage solutions.