At Premium Sign Solutions, your business sign maker, we designed and installed Revolution Post's monument sign in Burbank. We helped them bring their creativity and color into their client's space while maintaining high standards and artistry. This business sign grabs the attention of passing traffic. 
Revolution Post with beautiful studios in Burbank and Manhattan ensures that they revolutionize and perfect the way online and the color is done. Their onsite Dailies, DolbyVision HDR, HDR10, and OTT deliverables of all types are Netflix and DolbyVision certified. They define themselves with ability and a vigilant eye toward the future of picture finishing, which engenders their client's trust. 
Monument Signs Details 
The Revolution Post Monument Sign is 63″h x 42″w 16″ deep and internally illuminated, making it bright and convenient signage.
Our Monument Sign are ideal for outdoor signage purposes as they are durable, staying pristine-looking while withstanding weather, wear and tear, and even accidents.
Our exterior business signs like our illuminated monument signs are perfect for apartment and condominium complexes, restaurants, property managers and landlords, contractors and builders, and grocery stores. If you need a free sign quote, contact Premium Sign Solutions, your trusted sign company in the Los Angeles area.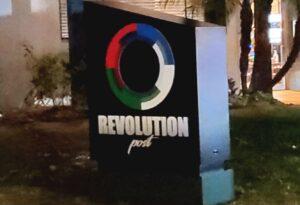 What are the benefits of illuminated monument sign outside on your curb?
An illuminated monument sign outside your business offers several benefits. It provides 24/7 visibility, making it easier for customers to find you at night, and can lead to increased foot traffic and sales.
These business outdoor signs are also eye-catching and memorable, helping your business stand out from the competition and making a lasting impression on potential customers.
Additionally, they are designed to be durable and long-lasting, able to withstand harsh weather conditions, and require minimal maintenance.
Overall, investing in an illuminated monument sign is an excellent way to increase visibility, attract new customers, and build a strong brand image for your business.
Final Thoughts 
If you're in the Los Angeles area and looking for a trusted full-service sign company, look no further than Premium Sign Solutions. The best sign company in your region. We offer free sign quotes and are confident in our ability to meet your signage needs with excellence. Contact us today to get started.