Do you ever get lost in buildings? Blame a sign guy! Seriously, proper wayfinding signs can help direct people from the parking lot or through a building or anywhere else they need to go. Whether it's for a large campus or building, they can be a real convenience. And here's the secret – these directional signs don't have to be ugly!
Show the Way… with Style!

It seems contractors, architects, property managers, building owners and even sign companies alike forget about these essential wayfinding signs. So  at the last minute they scramble to get whatever they can to pass an inspection without any thought to the building's aesthetics or how visitors will actually travel through a space.  They end up with directional signs that don't look pleasant, aren't visible or eye-catching, resulting in inadequately guided traffic.
Well, don't let this be you. So call us and let us help you define the path of travel for visitors, emergency responders and anyone else who may visit the building. We can also include American Disabilities Act-compliant features such as braille. These will make things so much more convenient, and in emergencies it might be a real lifesaver.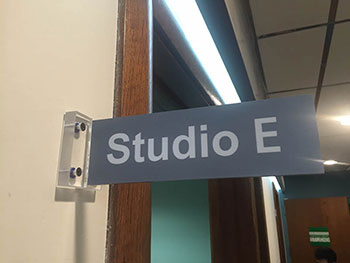 Likewise, this gets you a comprehensive sign package that enhances your exterior and interior design while keeping everything convenient and costs down (you don't want a rush job). So we can help create everything from parking lot signs to directories, suite signs and wayfinding signs throughout your building.
Need directional signs for your establishment? Contact Premium Sign Solutions.  Southern California Sign Company based in Tarzana.